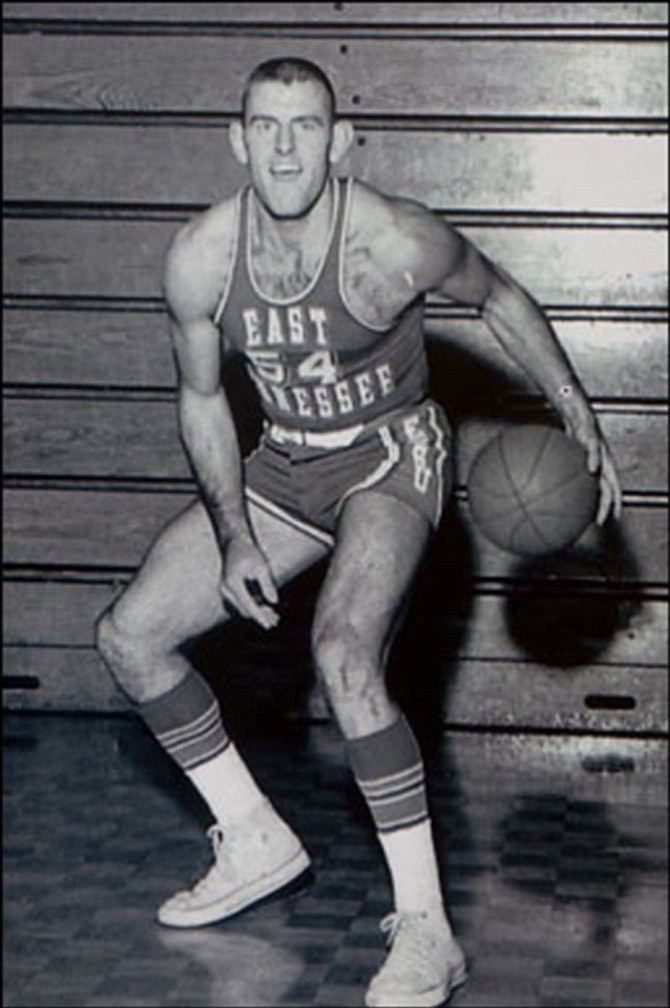 He was larger than life — a 6-foot-3, 230-pound athlete celebrated as one of the greatest legends of high school sports in Alexandria in the 1960s. His name was Harley Swift, a chubby kid from the wrong side of the tracks who was known simply as "Skeeter."
"Alexandria is where it all started for me," said Swift during a recent interview with the Gazette Packet. "Ever since I can remember, I had a basketball in my hand. I dribbled that ball everywhere and played on every playground I could find from Alexandria to D.C."
A star athlete in football and basketball at what was then George Washington High School, Swift would go on to lead his unheralded East Tennessee State University team to a stunning upset of the Florida State Seminoles to advance to the NCAA Sweet 16 in 1968. A third-round NBA draft pick in 1969, Swift played professionally in the ABA, ending his career with the original San Antonio Spurs.
On April 20, the man noted as only the second Alexandrian to play professional basketball in the U.S. died at Indian Path Hospital in Kingsport, Tenn. He was 70 years old.
Born Harley Edward Swift Jr. in Alexandria on June 19, 1946, Swift's parents, Harley Sr. and Alene Campbell Robey, divorced before Swift entered elementary school.
"Skeeter had to overcome some difficult family and community disadvantages," said Sam Campbell, one of Swift's former coaches at GW, in a Facebook post. "His father had not been in the household for years and the family situation was simply dysfunctional. He was immensely helped by the coaching staff, some good teachers and a family that eventually took him into their house and gave him some stability. He was humbly grateful."
Sports provided a refuge for Swift, who is still remembered for drop-kicking a 28-yard field goal in the opening game of the 1963 football season against Annandale.
"I still remember that game," said Maria Evans, one of Swift's classmates. "Skeeter was always exciting to watch — no one missed many games in those days."
But basketball is where Swift exceled. He played three varsity seasons at GW and in his junior year led the Presidents (20-3) to the league title and state semifinals. He was the lone Virginian and non-African American to be named All-Met in both his junior and senior year, graduating from GW in 1965. At ETSU, he was a three-time all-Ohio valley conference selection and 1968 player of the year.
Swift was drafted by the NBA's Milwaukee Bucks but opted to play for the ABA expansion New Orleans Buccaneers, eventually retiring with the original San Antonio Spurs.
In 2010, Swift was inducted into the Tennessee Sports Hall of Fame and in 2014 was part of the inaugural class of inductees in the ACPS Athletic Hall of Fame at T.C. Williams High School. In 2011, he organized a multi-school athletic reunion at GW Middle School that drew close to 500 attendees, including past players and coaches, to celebrate the heyday of high school sports in Northern Virginia.
"I needed to do this," said Swift, who had been diagnosed with lymphoma in the summer of 2009 and was undergoing a round of chemotherapy at the time. "There were so many guys I wanted to see."
Following his playing career, Swift entered the field of industrial chemical sales, but not before coaching at six different schools in Virginia and East Tennessee, including Oak Hill High School, an independent private school, where he had a 61-1 record.
"He never saw himself as an outstanding coach, but he must have done something right," Campbell noted.
Swift is survived by his wife of 24 years, Demetria Harr; daughters Susan Swift Arnold and husband Mike, and Stephanie Swift and Jeff Stout; sons Steve Swift and wife Nicole, Scott Swift and wife Kelly, Kevin Harr and wife Stephanie, and Keith Harr and wife Tracey; several grandchildren and great grandchildren; brother James T. Robey; and special niece Janice Harris and husband Freddie.
He was preceded in death by his sister, Sally Midkiff, and brother-in-law, Abe Midkiff.
A celebration of life will be held Saturday, April 29 at 3 p.m. at the Brooks Gym on the campus of East Tennessee State University, 1127 John Robert Bell Drive, Johnson City, Tenn. The family will receive visitors from 1 to 3 p.m. prior to the service.
In lieu of flowers, memorial contributions may be made to Trinity Academy, P.O. Box 396 Blountville, TN 37617 or to the Athletic Excellence Fund, ETSU Advancement, P.O. Box 70721 Johnson City, TN 37614.
Swift, who was diagnosed with Alzheimer's disease late last year and had recently undergone knee replacement surgery, took his health complications in stride.
"All in all, my body has been good to me," said Swift. "I never got hurt playing ball and I was luckier in life than I ever deserved to be. So please don't feel sorry for me."