Norm Hatch, a Marine Corps combat photographer whose footage from the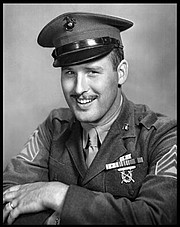 Battle of Tarawa won an Academy Award, died Saturday at his home in Del Ray. He was 96.
Visitation will be held May 1 and 2 from 5 to 8 p.m. at Everly-Wheatley Funeral Home, 1500 W. Braddock Road. Interment will take place at Arlington National Cemetery at a later date.
A full obituary will be published in next week's Gazette Packet.