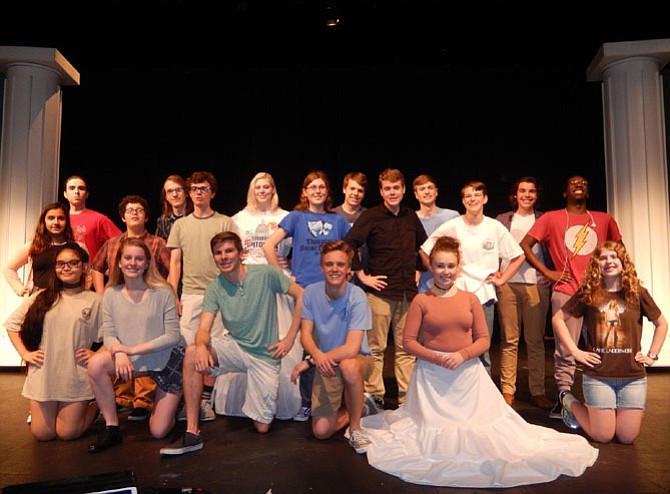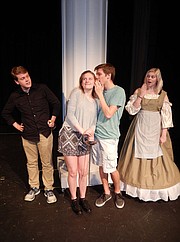 Say the word, "Shakespeare," and many people automatically think of his tragedies, such as "Hamlet" or "Macbeth." But Centreville High's upcoming production of the Bard's "Twelfth Night" is a comedy full of laughter and mistaken identities.
"'Twelfth Night,' in my opinion, is the best and most-enjoyable play Shakespeare ever wrote," said Director Mike Hudson. "If 'A Midsummer Night's Dream' is like going to a carnival, this is like being at a comedy club where the jokes are more sophisticated."
Show times are Friday, May 5, at 7:30 p.m.; Saturday, May 6, at 2 and 7:30 p.m.; and Sunday, May 7, at 2 p.m. Tickets are $10 at the door. And the cast and crew of 25 have been rehearsing since February.
Twins Viola and Sebastian are separated during a shipwreck in 1605 and wash ashore in different parts of a country named Illyria, at war with their home country. Neither knows if the other is alive, and Viola disguises herself as a man for her safety and to find work.
"Our play is nearly uncut from the original, and everything moves on and off the stage in full view of the audience," said Hudson. "The scenes take place around and about the house of the Countess Olivia. There'll be three, large doors upstage, plus family crests running across the top of the theater wall — and the middle one will be Shakespeare's."
The actors will wear full, Elizabethan costumes. The girls will be dressed in big, ruffled collars and multiple petticoats, with the boys sporting tights, puffy pants and doublets – jackets with ruffled collars. And Hudson says rehearsals are going great.
"The cast got into this with a great deal of enthusiasm, energy and dedication, which they haven't lost," he said. "It's been a lot of fun working with them. The audience will like the fact that so many people are planning and conniving behind other people's backs. And there are multiple subplots going on at the same time."
Noting that this is his favorite Shakespeare play, Hudson said it's only the second one ever done at Centreville High. "There's been a great resurgence in Shakespeare's works," he said. "This play was written over 400 years ago, but his works speak to the common man — everyone can understand them. They make fun of us and also shed light on what's noble about us, and this one is fast-paced and funny."
Junior Laura Cantagallo portrays Viola. Although she's actually a noblewoman, when she disguises herself as a man, she goes to work as a page for Illyria's governor, Duke Orsino. "Viola is a strong, female character," said Cantagallo. "There weren't many heroines like her in that time period or in Shakespeare's plays. She's independent and takes care of herself. She risks a lot by disguising herself, but she's smart and knows what she's doing."
Cantagallo loves her role. "It's challenging to differentiate between how I carry myself when I'm being Viola and when she's pretending to be a male named Cesario," said Cantagallo. "But I like being in the fight scenes and getting to have a swordfight with a man. It's fun being the lead and in a lot of scenes."
She also likes interacting with the other characters because of the variations in how Viola talks to them, depending on whether they're nobility or servants. "It was fun researching the character and time period," added Cantagallo. "It gave me more insight about Viola and learn how she'd react and act in different situations."
She said the audience will enjoy this play because "All the actors have good, comedic timing, and it's a show with substance, several plots and really well-developed characters. I want people to see how much hard work we've put into it. There's never a dull moment onstage; there's always something going on."
Playing Countess Olivia is junior Margot Vanyan. Her brother and father have recently died, so she doesn't want to marry anyone for seven years. "She's mourning their deaths, so she has no time for men," said Vanyan. "She's serious and behaves like royalty and is extremely stuffy and proper. She doesn't fall in love easily, but she does fall in love with Cesario."
Loving this part, Vanyan called it her favorite role she's ever played. "I love behaving like royalty and getting treated well onstage," she said. "Olivia does lots of funny things, but doesn't realize it, and she interacts so much with all the other characters. It's fun to play a lead in a Shakespearian show because it's a big change from what I've played before."
She said people might expect something by Shakespeare to be "long and boring; but because it's a comedy, it's fun to watch. And there are aspects of the show that people won't expect. They'll also love Malvolio [Andrew Dettmer], one of Olivia's servants, because he's an extremely uptight character and one of the funniest ones in the play."
Senior Jack Moore portrays Orsino, the duke of Illyria and a wealthy and lovesick man. "He's hopelessly in love with Olivia, but she doesn't love him back and, instead, avoids him," said Moore. "He's over-dramatic and, since he's rich, people have to pay attention to him, so he gets away with it. He's the driving force in the story because his love brings Viola's and Olivia's families together."
Moore likes playing Orsino because "My other roles have been arrogant and overconfident ladies' men. But Orsino is kind of a romantic and has his servants and followers talk to Olivia for him. He's also the highest-ranked person in the show, so I play him with condescension toward the other characters."
Moore said the audience will appreciate how the various subplots come together and "intertwine for a really fantastic finish. People shouldn't let the language stop them from coming to the show — it's going to be a lot of fun. This is one of the best casts I've ever worked with, and everyone's putting in a lot of effort — including time outside rehearsals — just to learn the language."
Playing Viola's brother, Sebastian, is junior Alex Wells. "He's found on Illyria by Antonio, a sea captain who's fought against the Illyrian people," said Wells. "Sebastian's friendly, but careful with his friendships; he doesn't want to mistakenly trust anyone. He's relatively inexperienced in the world of love because he's so surprised — although pleasantly — when Olivia falls for him. And he's also good with a sword."
Getting this part, said Wells, is "a really neat opportunity because all of Sebastian's relationships are so deep and intricate. And the way he reacts to situations is different from other characters I've played."
For the audience, he said, "Watching the characters struggle to figure out what's going on will be really fun and also quite touching. And the action moves seamlessly between completely different storylines until they meet at the end."