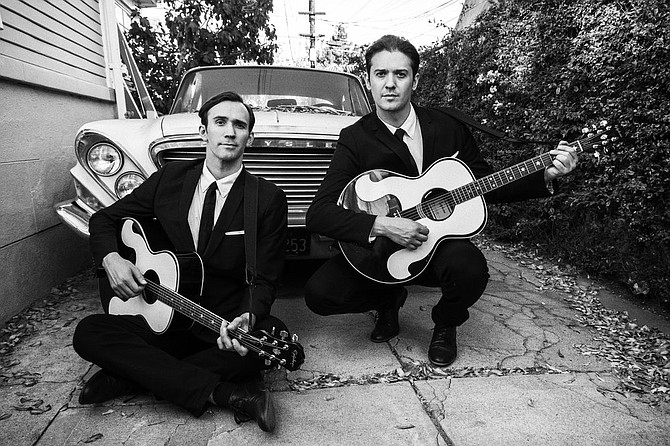 Alexandria — Thursday/April 27
Super Summer Resource Fair. 6-8 p.m. at William Ramsay Elementary
5700 Sanger Ave. Learn all you need to know about ACPS summer enrichment programs, City of Alexandria summer camps and activities, library reading programs, local summer camps and classes. Visit www.alexandriava.gov/Recreation for more.
NOVA Student Film Festival. 6-9 p.m. at Northern Virginia Community College, Bisdorf Building, Room 196, 5000 Dawes Ave. Visit www.nvcc.edu for more.
Meet the Author. 7 p.m. at Lee Center, 1108 Jefferson St. Former FBI investigator Robert K. Wittman highlights "Priceless: How I Went Undercover to Rescue the World's Stolen Treasures." Free. Call 703-746-1770 for more.
Membership Night. 7 p.m. at the Charles Houston Recreation Center, 901 Wythe St. The Alexandria Virginia chapter of the National Association for the Advancement of Colored People (NAACP) will host a membership night. Call 703-684-6190 for more.
The Everly Brothers Experience. 7:30 p.m. at The Birchmere, 3701 Mt. Vernon Ave. Visit www.birchmere.com for more.
Poem in a Pocket Day. 7:30 p.m. at The Athenaeum, 201 Prince St. In celebration of National Poetry Month and Poem In Your Pocket Day, Wendi R. Kaplan, Alexandria's Poet Laureate, is having a community gathering called Generating Hope. Visit www.nvfaa.org or call 703-548-0035.
Friday/April 28
Musical Tribute. 6-10 p.m. at The Carlyle Club, 2050 Ballenger Ave. Brencore Entertainment presents a tribute to the music of Marvin Gaye and Teddy Pendergrass. Music by the Brencore Allstars Band. $30-35. Visit www.brencore.com for more.
Saturday/April 29
Yard Sale and Second Hand Boutique. 8 a.m.-1 p.m. at St. James' Episcopal Church, 5614 Old Mill Road. Large Furniture, antiques, collectibles, jewelry, electronics, appliances, children and baby clothes and toys. Call 703-780-3081 or email office@stjamesmv.org for more.
Fairfax County Anniversary. 8:30 a.m.-3 p.m.,Virginia Room, City of Fairfax Regional Library, 10360 North St. "A Place Called Home: Fairfax County. A 275th Anniversary Event" is a day-long exploration of the history of Fairfax County. Free. Visit www.fairfaxcounty.gov/library or 703-293-6227, ext 6.
Native Plant Sale. 9 a.m.-2 p.m. at 1701 N. Quaker Lane parking lot. Fifteen vendors from four states selling native perennials, shrubs, and trees for sun or shade. Call 571-232-0375 or visit www.NorthernAlexandriaNativePlantSale.org for more.
Car Show Fundraiser. 9 a.m.-1 p.m. at West Potomac High School, 6500 Quander Road. Car Show to support the graduating senior class at West Potomac High School. $20 to enter a vehicle, attendance is free. Visit /www.angcwestpotomac.com/ for more.
Horse Riding Clinic. 10 a.m. at Little Burgundy Farm, 5715 Sable Drive. Paul Belasik is the author of seven books on riding and riding theory and has worked for 45 years with competition riders on national and world stages, as well as with amateurs. $20. Email inquire.CES@gmail.com or call 703-395- 3299.
Alexandria Earth Day. 10 a.m.-2 p.m. at the Lenny Harris Memorial Fields at Braddock Park, 1005 Mount Vernon Ave. This family-friendly event includes the Seventh Annual Upcycling Showcase, where students from Alexandria City Public Schools will present upcycling creations based on the event theme,"Clean Water Starts with YOU!" Visit alexandriava.gov/EarthDay.
Meet the Author. 11 a.m. at the Alexandria Black History Museum, 902 Wythe St. Genealogist and historian Char McCargo Bah explores the historical issues surrounding the Ramsey Homes Redevelopment Project. Call 703-746-4356 for more.
"Yet I Stand." 2-4 p.m. at the Convergence, 1801 N. Quaker Lane. In honor of Sexual Assault Awareness Month, "Yet I Stand," is a community play about Elise, a teenager who has been sexually assaulted, the harrowing after-effects and how her family and friends encourage her to heal. Visit www.re-creationsllc.org or call 703-209-6538.
Annual Spring Gala Fundraiser. 6 p.m. at the Hilton Alexandria Mark Center, 5000 Seminary Road. Fundraiser to support the Scholarship Fund of Alexandria. Tickets to the Gala and sponsorship opportunities are currently available at www.501auction.com/sfa. Individuals or businesses interested in donating goods or services to the Gala and Silent Auction may contact the Scholarship office at 703-824-6730 or email Beth.Lovain@acps.k12.va.us.
Transforming Lives Gala. 6 p.m. at the Westin Alexandria, 400 Courthouse Square. Auction, cocktails, dancing and desserts to to help transform the lives of families on the brink of homelessness by providing affordable housing through Good Shepherd. $175. Visit www.goodhousing.org for more.
Civil War Ball. 8-11 p.m. at Gadsby's Tavern Museum, 134 North Royal St. Victorian-era ball will feature the waltz, Virginia Reel, and more, as well as live music, desserts, and a cash bar. Period attire, either military or civilian, encouraged. $45 Call 703-746-4242 or visit www.gadsbystavern.org for more.
April 29-30
Grand Opening Weekend. 10 a.m.-5 p.m. Saturday and noon-4 p.m. Sunday at Home On Cameron, 315 Cameron St. Interior designers Susan Nelson and Todd Martz announce the opening of their new shop that focuses on design concepts. Visit www.homeoncameron.com or call 703-888-1475 for more.
The Spring Annual Barley & Music Fest. noon-6 p.m. in John Carlyle Square Park, 300 John Carlyle St. Craft brews from 18 artisanal breweries, live entertainment, and food vendors. The event will also take place again in September. Visit www.barleymusicfest.com/ for more.
Sunday/April 30
Ballet Performance: "Cinderella." Three seatings: noon, 3 p.m., and 6 p.m. George Washington Masonic National Memorial, 101 Callahan Drive. $12. Visit metropolitanarts.org/ for more.
Creating a Bird-Friendly Garden. 1-3 p.m. at Simpson Park Demonstration Gardens, 420 E. Monroe St. Learn tips to entice birds and other beneficial pollinators to the yard. Master gardeners and Audubon at Home volunteers will be on hand to offer tours, answer gardening questions, and distribute free seeds. Visit mgnv.org for more.
Book Talk with Fred Knops. 4 p.m. at The Athenaeum, 201 Prince St. Alexandria resident Fred Knops has written a tour book of Old Town Alexandria focusing on its colonial heritage. Sales from the books at this event will benefit ACT, the Alexandria Library Special Collection at the Barrett Branch, the Christ Church Foundation, and the Boy Scouts Troop 1515. Visit www.nvfaa.org or call 703-548-0035.
Monday/May 1
Garden Sprouts: Nature Playgroup. 10-11:30 a.m. at Green Spring Gardens, 4603 Green Spring Road. Nature-themed activities to meet other playgroup parents one Monday each month. A staff member is on hand to put out nature sensory bins, direct games and activities or lead a garden walk. An adult must accompany registered child. The topics for May is butterflies and Mother's Day. $6/child. Visit www.fairfaxcounty.gov/parks/greenspring or call 703-642-5173 for more.
Tuesday/May 2
Meet the Author. 7:30 a.m. at the Campagna Center, 418 S. Washington St. Frank Sesno will discuss the changing role of the media in America and outline his new book, "Ask More: The Power of Questions to Open Doors, Uncover Solutions, and Spark Change." $25. Call 703-549-0111 for more.
Wednesday/May 3
Swing Dance. 9-11 p.m. at Nick's Nightclub, 642 South Pickett St. Swing dance with Fast Eddie & The Slowpokes. $10. Call 703-751-8900.
May 4-5
Disney's "High School Musical." 7-10 p.m. at Mount Vernon High School, 8515 Old Mount Vernon Road. Mount Vernon High School Theatre Arts presents Disney's "High School Musical" with characters from the movie, plus some new friends, as they navigate first love, friends and family, their classes, and extracurricular activities.Visit mvhstheatrearts.com for more.