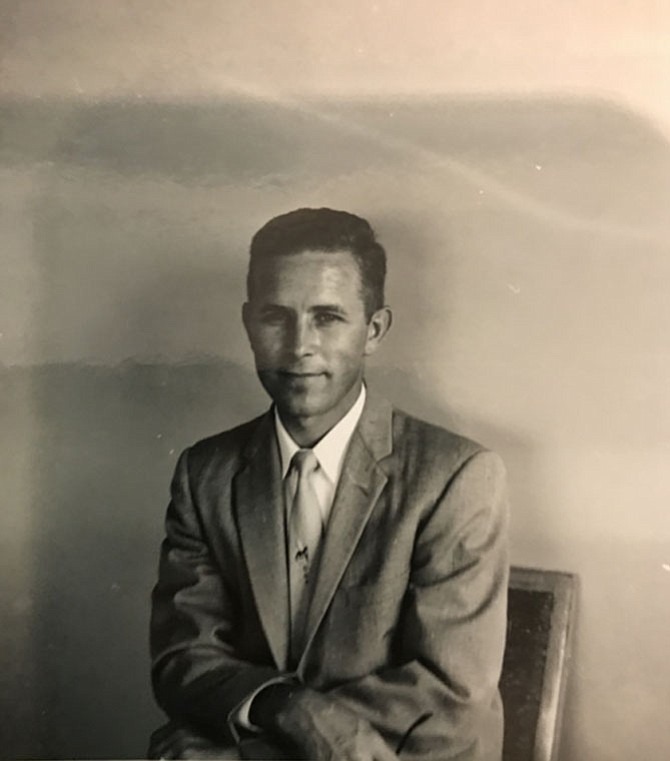 Things have changed considerably since Rudy and Ginny Savage moved into their new home in Potomac, November 1963. For starters, the road in their neighborhood is now paved and, secondly, they are not now the only other house in the neighborhood they chose.
"There was a small house across the road," Rudy recalled but he wasn't sure anyone was living there at the time. Indeed, when celebrating his 90th birthday, this past April 2, with family members and with neighbors within walking distance, the acre-plus lots surrounding the Savage home of nearly 55 years, all now have driveways leading to a well paved road.
Rudolph Patrick Savage, Sr., born April 4, 1927, near Wilmington, North Carolina, in a small rural town (the name he doesn't recall, if it had one) is a graduate of North Carolina State University, but not before taking a year off to join the U.S. Navy. He returned to college at N.C. State where he graduated with the class of 1950 and accepted a job with the U.S. Corps of Engineers. He later became a coastal engineer after studying beach erosion at Texas A&M.
"It posed a challenge," he answered, when asked why erosion was his choice. Apparently he is one who enjoys a challenge. In 1959, with wife, Ginny, and their three young children — Jennifer, Rudolph "Pat," Jr., and David — the family moved to Delft, in Holland, where Rudy studied shore erosion control under the auspices of the U.S. Corps of Engineers.
Throughout his career he considers one of his major achievements was locating a place for a coastal engineering research pier in Duck, N.C., where engineers measure waves with special instruments. "My primary concern was to prevent wave erosion on beaches," he said.
He and his wife, Ginny (Virginia,) were on vacation when he unintentionally located the site of an estimated 1,000-foot long pier that now extends into the ocean where waves that cause beach erosions are located. "I just felt it would be a good site for the pier," he recalled. He contacted his office back in Washington with his idea. The rest is history.
Following his 1984 retirement from the U.S. Government's "Corps of Engineers," after 33 years, Savage started his own company, "Shorelines, Inc.," in 1986. He primarily focused on erosion problems at private beach homes and properties in Maryland's Chesapeake Bay area.

"I made designs for the owner's shore erosion problems and protected the shorelines with groin and grass," he said. The "groin" he explained, "is heavy stone that waves cannot penetrate."
It wasn't until 2005 when Rudy was approaching his 80th birthday he considered he just might retire, plant a vegetable garden behind his house and take life easy. The "easy" part he said was planting the vegetables. The difficulty ensued when he admitted, "the deer were always the first to get my vegetables."
By "taking life a little easy" he considers his daily, two or three, 30-minute walks in his Potomac neighborhood, or driving to the grocery store when necessary, if Ginny doesn't beat him to it. He particularly loves the walks, seeing and chatting with neighbors and petting the dogs that accompany them.
One recent such walk he met a neighbor walking her dogs and the two of them, as the dogs watched, were seen dancing in the street. They swore they weren't dancing, Rudy was just demonstrating a dance step he particularly likes. "It was more like a hop," the neighbor said. But, other than the dogs, no one was surprised.