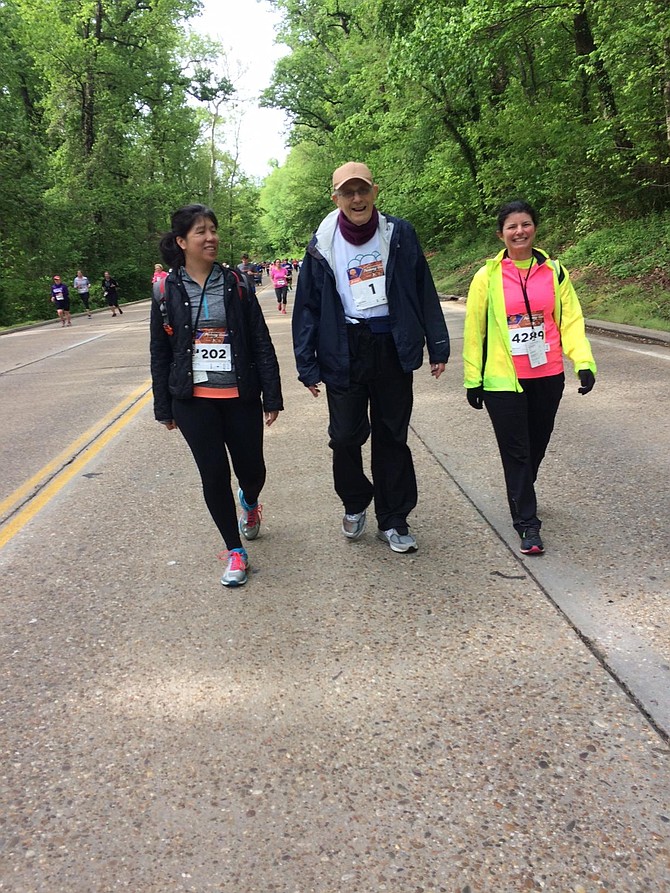 Jamie Watts will be pleased when she sees her time for the 33rd annual George Washington Parkway Classic. She cut her time down to six hours and 20 minutes, covering the 10 miles with the kind of dedication she shows in the rest of her life. Alexandria residents cheered her on as she closed in on the end of the race in Old Town. Donald Trilling, the oldest participant in the race, will be pleased he once again came in just short of last. His time was four hours and 51 minutes, which is not bad for 89.
The GW Parkway race again proved to be an inspiring race on Saturday, April 23. Four thousand four hundred and eighty-one runners ran 10 miles. Another 1,318 runners ran the 5K race. As they did last year, Pacers Running Shops handled logistics, busing runners into the start and back to their parking lots, with Two Men and a Truck shuttling belongings, Starbucks offering coffee, the National Park Service taking pictures of participants, bands entertaining, Port City Brewing handing out beers, and local residents, volunteers, and security officials providing a friendly buffer along the parkway.
Once again, running groups raising money for veterans, neighbors in need, and breast cancer were there, getting shout-outs on the public address system.
Meredith Klinger, who was running her first GW Parkway race, and who began to run for the first time in her life this year, finished in just over two hours with a 12:05 mile.

<1b>— Eden Brown