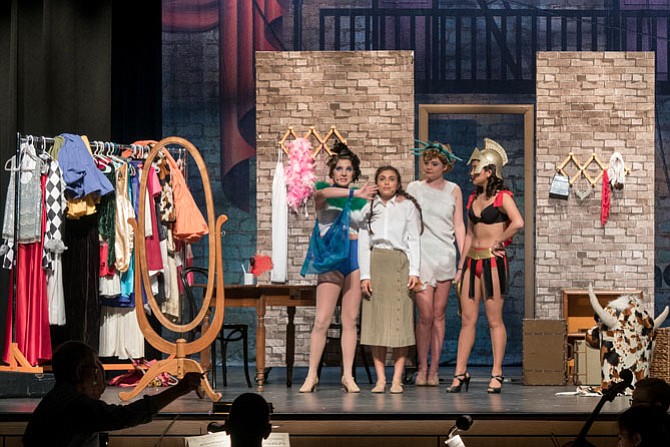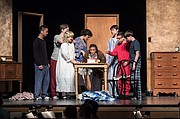 What happens when a renowned striptease artist raises her two daughters to lead a life of show business and onstage performance?
Plenty of drama.
Langley High School's new musical, "Gypsy," follows Mama Rose Hovick and her two daughters, June and Louise, as they travel the American vaudeville circuit of the 1920s.
The cast finished its first round of performances last weekend, but the Saxon Stage will raise its curtain for a second round of shows from Thursday through Saturday, April 27-29.
Taking audiences along for the journey involved creating more than a dozen sets, according to junior Madison Deyo, 17, who is the stage manager for the musical.
"Our set changes a lot and the lighting changes for each scene," she said.
This is Deyo's sixth mainstage production at the school, working her way up the ranks to call the shots from behind the scenes.
"If I mess up, we're in trouble," she jokes. "I'm there to make sure everything runs smoothly."
But the emotions on the stage run wild.
"It's a train," said senior Jamie Goodson, 18, who plays Mama Rose. "It just never stops. When I finish a run through, I'm just emotionally drained."
Stepping into a role of a mother who is much older than she is also complicates her experience.
"It's the hardest role I've ever played," she said. "I have to imagine what it's like to take care of people."
But she and her character do share something in common: A passion for the stage.
"Theater is her life and she's wanted to do this her whole life," said Goodson, who will start attending the College-Conservatory of Music at the University of Cincinnati in Ohio to pursue a Bachelor of Fine Arts degree in musical theater next fall.
By the end of the show, which spans over a decade, her character deals with the frustration of not having much to show for her work and sacrifices in the number "Rose's Turn."
"The end is so vulnerable for me," Goodson said.
She uses some of her own personal memories to deliver the performance in the song.
"If it's not coming from a real place, the audience isn't going to feel for you," she said. "I hope I don't end up like her. I'm in a place she was once."
The aging of the actors is a challenge that the whole cast embraced.
"I age a decade in the show," said sophomore Mark Bosset, 16. His character, Herbie, requires applying powder to his hair with a toothbrush to age his character, a graying effect.
"It's fun to put yourself in the shoes of this character," he said.
There is also a strobe light effect to dramatically age the actors, who are played by elementary students, to the high school actors.
"It looks amazing," said Deyo. "It took a couple of rehearsals, but it looks good."
General admission for the show is $13.41 online at www.lhsgypsy.brownpapertickets.com and $15 at the door while seats remain.