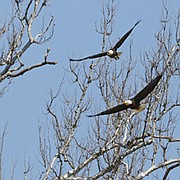 It is that time of year when our community art organization, Great Falls Studios, comes together to hold its annual Spring ArtFest which is scheduled for next weekend on Saturday, April 29 and Sunday, April 30 from 10 a.m. to 5 p.m. both days. This year is featuring an expanded set of venues to include all the group studios in the Great Falls Village Centre as well as in the Great Falls Grange and Schoolhouse.
I will be showing my work in my studio at The Artists' Atelier located just two buildings down from the Old Brogue. I have been photographing a pair of Bald Eagles in Riverbend Park since last fall and have collected hundreds of images as they built their nest, fell in love and are now raising a family. I cannot tell you how many trips I have made to the park to observe and photograph these two, now three, but it is close to three or four times a week. As a result I have added several images to my portfolio of Great Falls wildlife, landscapes and landmarks. It is one thing to see a solitary eagle perched in a tree but it is something much more to see a pair perched next to each other on the same branch or soaring lazily together overhead or even chasing each other in formation.
So mark your calendar, come to the Spring ArtFest and plan to stop by The Artists' Atelier. If you are looking for something for your home or office or perhaps a graduation or wedding gift, I'm sure there is a solution here somewhere. Even if you are not in shopping mode, stop in to see the eagles, pictures that is, and say hello.