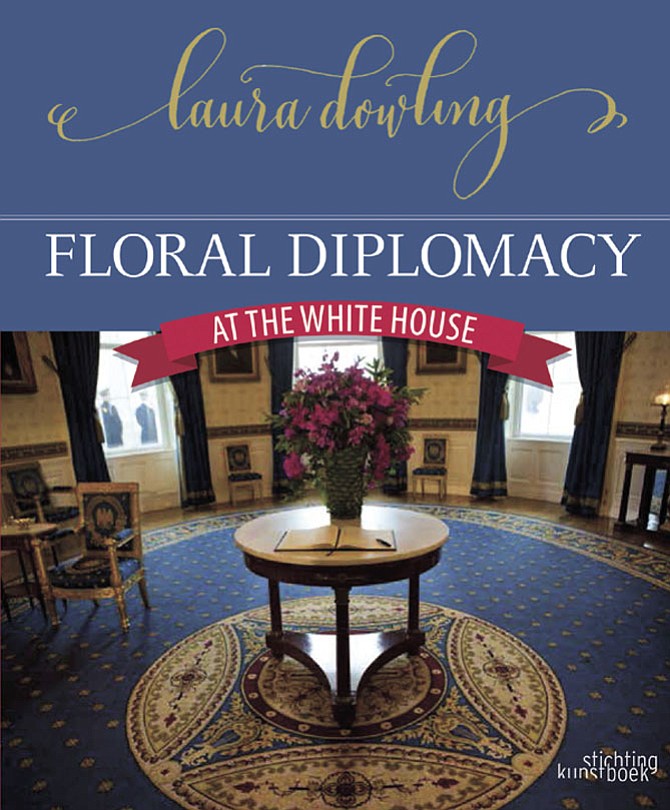 Alexandrian Laura Dowling, an award-winning florist, brings attention to the power of flowers with a book called "Floral Diplomacy at the White House" published by Stichting Kunstboek in March 2017.
Dowling writes about her tenure at the White House as the official chief floral designer from 2009 to 2015 under the Obama Administration. In so doing, Dowling sheds light on the virtues of hard work, creative talent and following one's passion.
As chief florist, Dowling designed nearly 2,000 events, everything from private parties to official large-scale holiday events and state dinners. She also created "tens of thousands of bouquets for public and private portions of the White House floral portfolio."
With just three full-time staff people, Dowling soon found herself working much more than a 40-hour week. So she developed innovative solutions to increase productivity and quality of floral presentations. This included expanding the White House volunteer program and putting new systems in place, maximizing technology to overhaul the White House warehouse that stored, in part, 100,000 Christmas ornaments.
"There are a lot of moving parts [to floral design]," Dowling said. "You have to match up skill and the overall vision."
That vision was a White House with a new president that valued the environment, innovation, technology and a healthy "Let's Move" sentiment.
But no matter how large and elaborate or small and intimate, each floral presentation by Dowling had a purpose beyond its obvious decorative value.
At the White House level, flowers became a diplomatic tool that she calls "floral diplomacy." That concept became Dowling's signature as she conveyed diplomatic messages, meaning and metaphor throughout her work.

This addressed, for example, a nod to U.S.-Mexico economic and cultural ties when Mexican President Calderon and First Lady Margarita Zavala visited the White House in May 2010 for the Obama's second state dinner.
The color scheme, Dowling notes in her book, was fuchsia and turquoise inspired by nature and the colors of the Mayan sun and sea gods. Floral designs also included gilded baskets woven in Mexico, a show of respect for Mexico's tradition of artistry and craftsmanship.
Creative challenges were not beyond Dowling's reach. Robotics entered her field, too, with "Bo-bots," tail-wagging representations of the Obama's dog Bo.
As the book documents, Dowling always provided a fresh look to an event while being mindful of the Obama's values.
Teams of various agency people scrutinized each floral choice. And dealing with sensitive questions became a typical day: "Where are the flowers from (imported or locally grown)? How were they transported (with high or low carbon footprint)? How were they grown (organically or with pesticides)?"
Dowling's pursuit of floral design is a story of someone who started a floral business from her basement in Old Town Alexandria following a trip to Paris with her husband. Inspired by a casual elegant Parisian garden-styled bouquet, Dowling, then a political scientist, found herself thinking: "I need to learn and find out more."
"Floral Diplomacy at the White House" is available online at Amazon.com and elsewhere in bookstores.