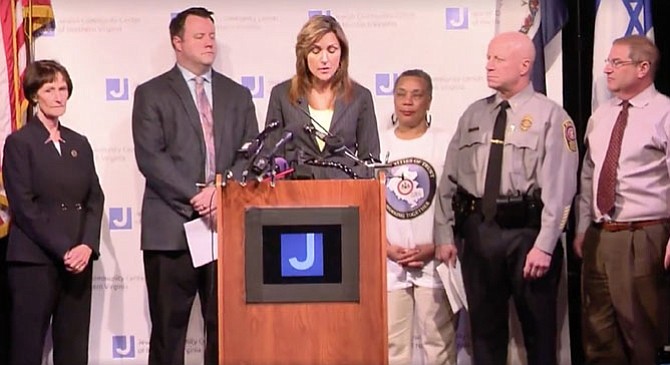 Dylan Mahone, 20, of Annandale was arrested in connection with three hate-motivated incidents, Fairfax County Police said, including a pair overnight on April 11 at the Jewish Community Center of Northern Virginia and the Little River United Church of Christ.
Mahone was identified through a joint investigation with the Northern Virginia Community College Police into anti-Semitic flyers that had been posted around one of the campuses.
Video obtained by detectives of at least one of the incidents, police said, led to a positive identification of the suspect. He was charged with two counts each of felony destruction of property, placing a swastika on religious property with the intent to intimidate and wearing a mask in public to conceal one's identity.
For the NVCC alleged offenses, Mahone was charged twice more: one count of felony destruction of property and one count of wearing a mask in public to conceal one's identity.
FCPD public relations bureau director Julie Parker said there could still be additional charges filed in the case.
Speaking from the Jewish Community Center "The J" at an April 13 press conference to announce the arrest, police chief Edwin Roessler said, "this horrific event is just something we will not tolerate in Fairfax County, or in this country."
Roessler praised the work of detectives, with help from community engagement, to bring about an arrest within 48 hours.
The message for anyone who commits hate crimes in Fairfax County, Roessler said: "We will arrest you."