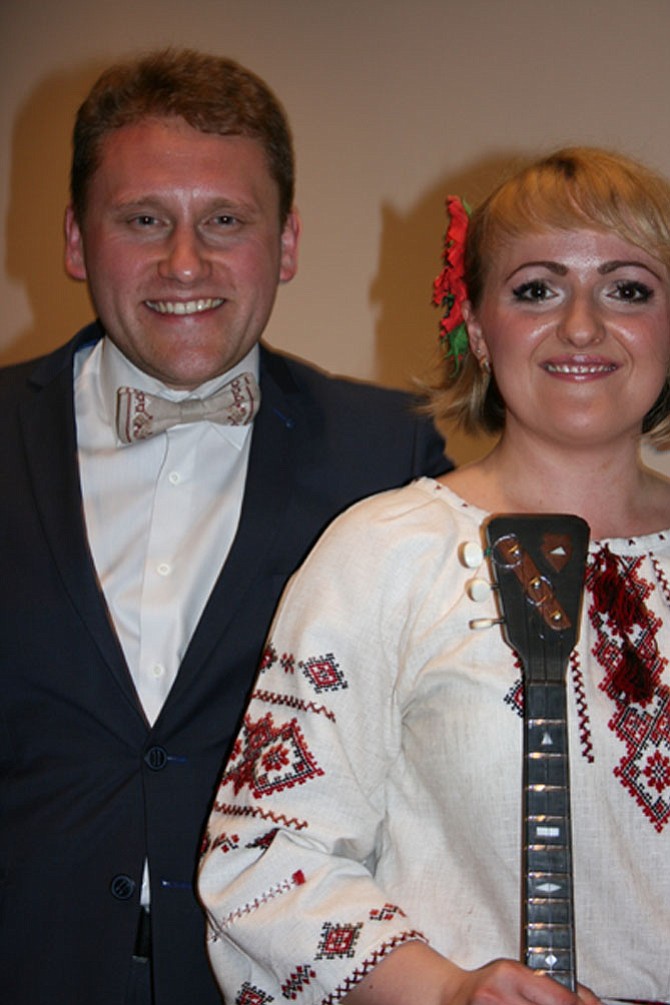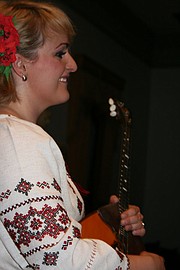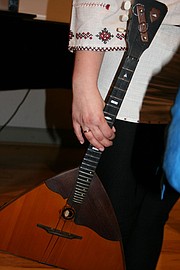 Balalaika musician Tetiana Khomenko and pianist Vitalii Lyman delighted concertgoers in Alexandria on March 31 at the Lyceum, 201 S. Washington St.
They played renditions of American classics from jazz to Broadway, including "Bumble Boogie" and themes from George Gershwin's "Porgy and Bess." The Ukrainian duo also entertained the audience with Russian pieces: "Dark Cherry Shawl" and "The Fog Comes from the Mountain," and a traditional Ukrainian song: "Unhitch the Horses, Lads," among others.
The balalaika is a three-stringed instrument with a triangular bodice. Khomenko's instrument is neither as large as a guitar nor as small as a ukulele. She strums with no pick, she says. Khomenko graduated with honors from the R. Gliere Institute of Music in Kiev, Ukraine, in 2004 and from the P. Tchaikovsky National Music Academy of Ukraine in 2012.
Ukrainian music expresses the "wild soul and open heart that comes from our nature and difficult history," said Lyman. He has performed piano with the National Symphony Orchestra of Ukraine and the Kiev State Symphonic Orchestra, among others. In 2016, he was a visiting lecturer at the Bach School for Gifted Children in Taiyuan (China).
Working together for just six months, Khomenko and Lyman were introduced to Alexandria by the Washington Balalaika Society, a community-based orchestra of Russian folk instruments.
According to WBS Vice President June Whelan, WBS has been invited to host the 39th annual convention of the Balalaika and Domra Association of America in Alexandria July 16-23. The convention will culminate with an orchestra concert by more than 100 musicians from around the world. On June 3-4, WBS will present Parade of Favorites, concert pieces with guest soprano Olga Orlovskaya.
For more detail on WBS cultural activities, visit www.balalaika.org.