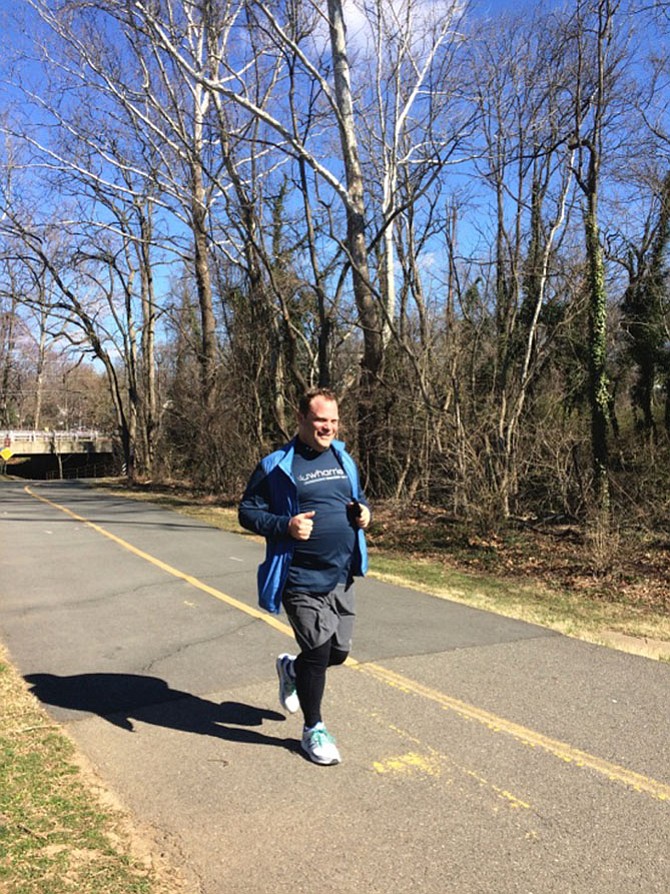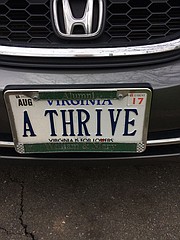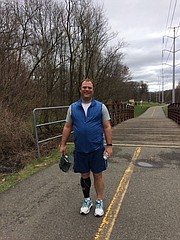 Andrew Schneider's car is always the last one in the parking lot after everyone else has finished the Saturday training run. He's pretty much always last to arrive back at the starting point at the 3.5 mile marker on the W&OD trail. His running mates are mostly local women between the ages of 40 and 65. There are a few teenagers who fly through the training runs: everyone else hovers around an 11-minute mile. He eats their dust. Schneider's mile? More like an 18-minute mile.
But when he does arrive, Schneider still has a smile on his face. Each week, he responds to the question: "When was the last time you ran this many miles?"
"The last time I ran five miles was maybe 2008," he says. Each time the question is asked and the distance is longer, Schneider answers further back in history. Schneider was a swimmer at the College of William and Mary. Running wasn't his sport. Running to raise money for a local safety net, that's different.
His most recent comment on his "journey running for Arlington Thrive" this year was equally upbeat. Schneider was appointed executive director of Arlington Thrive in March 2016. Running the "Resolve to Run" race for the first time since then, Schneider says, "The thing that surprised me the most about training for a 10 miler was not the physical challenge, which is already something, but the mental changes that happen when you run. The thing is how much better I feel mentally and the residual impact that makes on the rest of my life."
Arlington Thrive's Resolve to Run program begins in January of each year and trains individuals to run the GW Parkway Classic 10 mile or 5K race in April. Runners are asked to raise funds for Arlington Thrive and their neighbors in need. For more than 40 years, Arlington Thrive has provided same-day emergency funds to Arlingtonians in crisis, so they can be secure in their jobs, health, and homes and thrive in a caring community.
Arlington Thrive is coming up short on donations to the YouCaring.com sites runners have posted to garner support. It may be a function of people not wanting to get their name on yet another email list they have to eventually unsubscribe from. Or it may be a function of being too busy to take the time to support neighbors in need. Thrive has an answer to both: for those who can't bear more emails, it's easy enough, says Shandra Niswander, director of development, to put a check in the mail with Arlington Thrive on the payee line, providing the name of your favorite runner who is getting up early every Saturday to run, and sending it to Arlington Thrive, at PO Box 7429, Arlington, VA 22207. And for those who are too busy to write a check, as Schneider has shown: it's not when the last time you ran this far was or how fast you ran your mile, it's "When was the last time you gave up some time and money to help someone in need?" See http://arlingtonthrive.org/donate/.