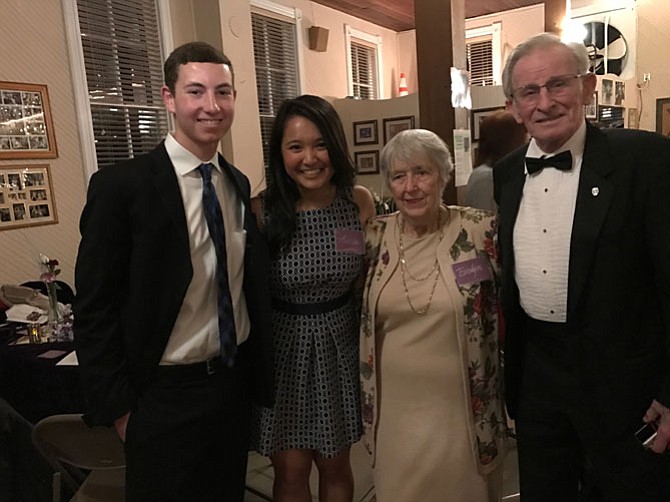 Colvin Run Civic Association Inc, a nonprofit organization, held their 85th Anniversary Dance Celebration Saturday, April 1. They were there to recognize the association's nearly 100 years of owning and preserving a historic one-room schoolhouse the organization had turned into a vibrant dance and community hall.
Jean Rosenbluth, treasurer Colvin Run Civic Association, explained keeping the dance hall alive all these years has not always been easy. There have been challenges, especially in the late 1980s when attendance levels dwindled due to the majority of regulars aging or passing on. Acting strategically, the board changed their marketing to target a different audience — younger individuals and singles. "This changed the dance hall for good," Rosenbluth said. "It's more vibrant."
Renamed the Colvin Run Dance Hall, the former schoolhouse is conveniently located between two dynamic areas, Tysons and Reston, and is minutes off Route 7 in Great Falls.It remains surrounded by its original 1-acre of land and retains historic charm. There's an operational bell tower, tall windows and a high barrel-vaulted bead board ceiling.
Through the association's ongoing fundraising efforts and individual contributions, the organization has made many improvements to the building. The dance hall sports a double sprung oak floor, viewed as the best floor for dancing as it absorbs shock and prevents injuries, and a stage. Conrad Heer is president of the Colvin Run Civic Association. "It has a professional sound system, video and food warming facilities," he said "We rent it out for weddings, rehearsals and other special events."
As more than one hundred guests, mostly singles ranging in age from teens to seniors, arrived for the celebratory Anniversary Dance, Rosenbluth shared a bit about the building's history. It served as a classroom from 1908-1931, until dwindling attendance forced Fairfax County School Board to close it. In 1931, the Circuit Court ordered the building and land to be auctioned off to the highest bidder. That bidder was the newly formed Colvin Run Civic Association, created with the sole purpose of, as Rosenbluth said, "Purchasing the schoolhouse for community use."
Bill Rosenbluth, vice president of the Colvin Run Civic Association, said that even with the Great Depression looming, eleven concerned individuals came forward with $200 promissory notes and two with $100 notes, to present the winning bid of $2,600 to the Circuit Court.
Attending the event were Evelyn and Walter Wheeler, in their 90s. Heer recognized them for their lifelong commitment to the dance hall. Heer said Evelyn has been coming to the dance hall for 70 years, beginning when she was 14, and Walter served as president for many years. "Whenever we have a problem, we call Walter," Heer said.

Heer next introduced Michael Kearney, "A person who has done much for the community." Kearney told how coming to Colvin Run Dance Hall has brought such extreme joy into his life. "I've met some very wonderful people here, the nicest I've ever met. In 2014, I met the love of my life."
The 85th Anniversary Dance featured the band Mike Surratt and the ECB. Their multi-genre music ranged from Glenn Miller and sock hop to 70s and beyond. Along with Alan Jones on sax and clarinet and Joe Stec on drums, the band wowed guests as they danced late into the night under the mirror ball.
During Kearney's final remarks, he summed up the special aspects of the dance hall. "There's joy in the building that makes you feel good. It brings the community together … people that expect nothing in return." he said. "Here's to the next generation to take it on."
For more information, visit www.colvinrun.org.