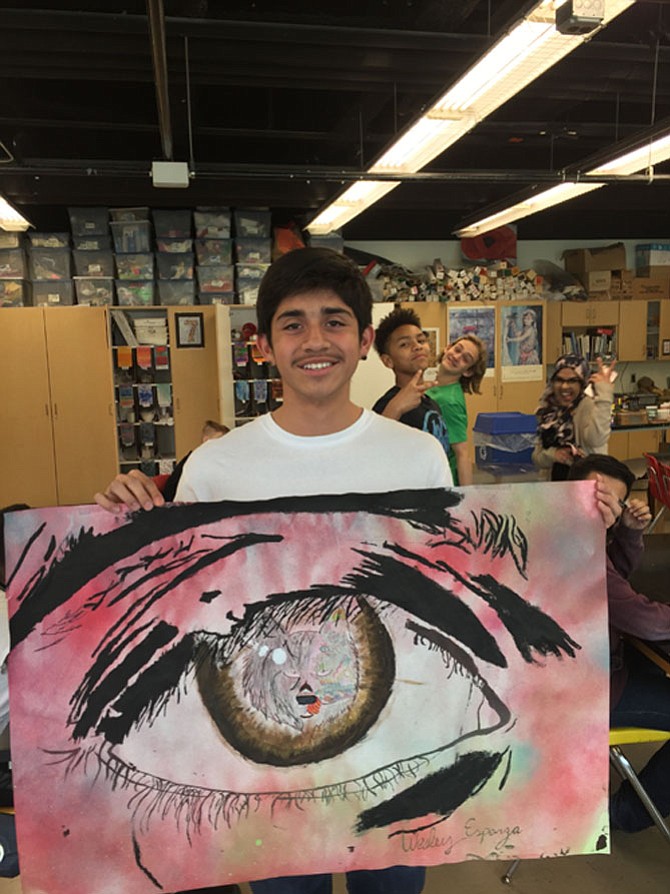 Wesley Esparza sees two sides to himself. One he paints as a wolf in bright colors. It's a side of himself with a good attitude, the side that's colorful and artistic. But the other side of the wolf he paints in much darker colors. He says it's a side of him that's proud and bad, but then corrects himself.
"It's not bad," Esparza said. "It's another side of me."
Esparza is one of the students at Kenmore Middle School at the heart of the school's artistic renaissance. Within Jeff Wilson's classroom, the walls are covered with projects in the works, with students inside and outside using paints and clays and found objects to put together artwork that helps them express themselves and relate to the world around them. But within the last year, this art has started to spill outside the confines of the classroom.
One of the largest and most visible projects coming out of Wilson's class was a 100-foot long mural depicting students playing band and orchestra instruments. It started with a practical maintenance concern: the narrow hallway outside the art and band classrooms needed painting. Wilson volunteered to take on a project that both solved the maintenance issue and could serve as a teaching opportunity for his students.
"This is not art in a vacuum," said Wilson. "This is a solution in the bigger picture. That's where art fits in."
The project was designed and painted by Wilson's 8th Grade class and took a semester to complete. Students worked in groups of two or three on the projects. First the students would develop a silhouette portrait of their subject. The portrait would be scaled up into a life-size image to be stenciled onto the wall. Wilson said the project was also the culmination of a semester studying Josef Albers' color theory. Students had to select two colors that both reflected a mood they wanted to give their portrait and complemented the colors of the portrait on either side of theirs.
To Conor Hogan, jazz is purple.
"I picked the trombone," said Hogan. "Right away, I wanted to do jazz. I knew I wanted purple for the project, it's a jazz color. When I think of jazz, I think of night."
Wilson's emphasis on color theory resonated with many of the students working on the project. Tony and Dalila Martinez worked on the bass clarinet together. Dalila Martinez said they picked navy blue and magenta because the girl who plays it said it had a very low sound, so they needed colors that were dark but bold.
While the project included every student in the class, students said that within their groups they discovered that they worked best if they could identify and utilize each student's strengths.
"I like drawing people, it's my favorite," said Lauren Puttock. "My partner didn't. So he did the pictures and the grid while I did the [human] details. Sometimes things don't go like you expect, but if you have a good spirit it will all turn out well."
For Wilson, it was also an exercise in trust and dedication. The mural was not only a collaboration with another department, but it was going to be a very visible expression of his students' talent to the rest of the school. It was a gamble, but Wilson said it paid off.
"Eighty percent wasn't going to work," said Wilson. "We had to have 100 percent success and no student was left out. That was miraculous. They really rose to the occasion. They understood there was a certain level of quality that was needed."
The students were uncertain at first, but said as the project moved along they became more comfortable and more invested in their work.
"When I first heard about the project, I thought 'how are we going to do something of this magnitude?'" said Caro "CJ" Lipsitz, who painted a violinist because she said she always loved the sound of the violin. "But it was not as hard as I thought. It was hard to get all of the details right, but those were the most important."
The mural is complete, but the art never stops. Art students at Kenmore are currently working on a range of projects, from the self-reflecting eye project inspired by Andy Warhol to designing, sculpting, and wiring their own lamps.
"I love this age," said Wilson. "It's wild, it's unpredictable. You just have to give a little permission for creativity."
On April 21 from 7 to 9 p.m., Kenmore Middle School will host an Art and Jazz Showcase featuring the art of Wilson's students and music by the school jazz band. Tickets are $25.