Fairfax — The Shoestring Theatre Company is presenting "I Ain't Made That Way" on April 22 and April 23 in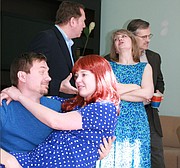 Fairfax as part of the Fairfax Spotlight on the Arts Festival 2017. The play tells the story of what happens when the coal-mining community of Keokee, Va. gathers to celebrate the accomplishment of its favorite son who has just earned two master's degrees. Resentments, potato salad, and banana pudding fly when the family's secrets come to light.
"The theme of the play is about community and family and the perceptions and misconceptions that people bring with them and the biases that they have against one culture or another," said director Amelia Townsend of Oakton.
DJ Neace of Washington, D.C., plays the role of Harlan, a well-educated man who has a temper, especially in dealing with members of his family. "He was injured in a mining accident when he was younger. He's dealing with his family who wants to take care of him," he said. "His wild side is brought out a lot more when his brother-in-law and sister try to control him and tell him what to do."
He said, "One of the main reasons I wanted to do this show is that I wanted people to see that there are some stereotypes that are based in truth. You see stereotypes about the Appalachian characters, but in this show there are well-educated people there and jerks there just like in every community across the country, and it's important that we showcase that."
SHARON CARBALLO of Clifton plays the older sister Mary. "Mary is all about her family; her family is her whole world," she said. "She's very protective of Harlan; she wants to take care of him. There's a territorial struggle between me and his wife. Mary can come across as controlling or overbearing; she also has this sense of humor that comes through too."
THE SHOESTRING THEATRE COMPANY is presenting "I Ain't Made That Way" on April 22 and April 23 10427 North Street, Fairfax, VA, in the Old Pacers Running Store, in Fairfax. Show times are April 22, 2017, at 2 p.m. and 7:30 p.m.; and April 23, 2017, at 2 p.m. Tickets are $15/advance; $20/door. For more information, visit www.fairfaxspotli... or Shoestringtheatre....
She said the challenge in her role was that Mary's emotions are at the surface. "So if Mary is not happy, you are going to know that; she has no filter, so that's a little bit different from my life," she said.
Geoffrey Baskir of Alexandria plays the dual roles of Mule Train and Virgil, two pillars of the community. "They are considered to be senior members of the mining community; they are respected role models and they are the ones who have seen Harlan and Matthew throughout the time they've been in mining so they know some of the dynamic," he said.
Bob Cohen of Manassas plays the role of Munch who is Harley's college roommate who comes to Keokee to celebrate Harlan's two master's degrees. "He comes in with prejudice and preconceptions and through the course of the play, he comes to realize that they're not so different -- that people are people," he said.
Dan Potter of Alexandria plays the role of Dub who took off for Hollywood and made it as a successful director. "So he's back to celebrate this occasion, but is coming back having lived in 'off,' which is slang for not local," he said.
Tess Rowan of Reston plays the role of Trinity, who is very bold with a bit of an attitude. "She is one of the only people who stands up to her dad; she's also very head-strong and strong-willed," she said.
As far as audience takeaways, she said: "I hope that [audiences] realize the people in Southern Virginia are not the stereotypical people of the South; they're just normal people, and like in every family, there's love and arguments."