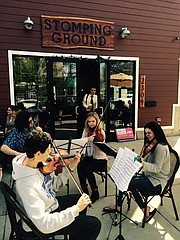 With a few clicks of a mouse, tens of thousands of donors logged on April 5 to participate in ACT for Alexandria's seventh annual Spring2Action day, an online giving event dedicated to raising funds for local nonprofits.
Within the span of 24 hours, 9,058 donors raised $1,592,459 for 158 Alexandria nonprofits, an increase of $254,966 over 2016.
"We are so proud to be part of such a generous, connected community," said John Porter, President and CEO of ACT for Alexandria. "For the seventh year, Alexandria came together to support the nonprofits that are essential to our city."
Since its inception in 2011, Spring2ACTion has raised more than $6.5 million for local nonprofits. This year saw nearly 30 nonprofits participate for the first time in the online fundraising initiative.
Additionally, dozens of local businesses hosted events to support local nonprofits, including free donuts at Sugar Shack to 25 cents per meal donations from Holy Cow Burgers, Pork Barrel BBQ and Sweet Fire Donna's.
Throughout the day, ACT's Donor Advised Fund holders provided $250,000 in matching grants and gifts during the online initiative.
Top Prize Winners included: Most Donors – Alexandria Soccer Association; Most Dollars – RunningBrooke; Free Agent Fundraiser – Potomac Crescent Waldorf School; and Spring4ART Leaderboard – Arts on the Horizon.
Spring2ACTion is hosted by ACT for Alexandria and presented by the Mason Hirst Foundation. For a full list of winners and sponsors, visit www.Spring2ACTion.org.