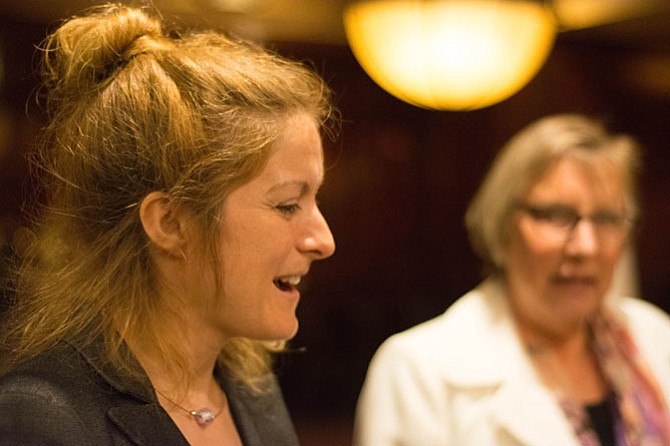 Vienna — Alternative House is more than a shelter for runaways and homeless youth
in the northern Virginia area. It is a non-profit that has provided a second story for more than 40,000 young people since it started in 1972. It will continue to do this under the new name —Second Story.
One of these young people helped by Alternative House was Jonesha Fullerton, 20, a shift lead there, who spoke in front of an eager crowd at the rebranding event Wednesday evening at Maggiano's in Tysons Corner.
"Alternative house has been helpful in a lot of ways both physical and mental," said Fullerton.
The rebranding event Wednesday, April 5, which included talks from the executive director Judith Dittman and board president Craig Adler of DLT Solutions, was meant to unveil the new brand of Alternative House, as Second Story.
"You don't get to make a lot of decisions in your first story," said Dittman. "Your second story is your own to choose, and ask yourself what choices are there before me? And this can lead to crises."
Second Story, formerly known as Alternative House, was founded by seven churches in the Vienna area in 1972, and since has been serving northern Virginia's homeless youth for four decades as Alternative House.
"A lot of people know us as the house with the purple door," said Jade Leedham, development director at Second Story. "Purple became our color as Alternative House. The youth shelter is located in a single family home on Gallows Road, but it stands out."
Second Story is there to help youth in times of crises, when they are thrown out of their homes, run away, or need guidance or simply a helping hand.
"Young people didn't like the name Alternative House," said Dittman. So she decided to ask for the assistance of a marketing firm and come up with a new name. Two years ago, the Meyer Foundation gave Alternative House a grant, and this helped spark the rebranding efforts. The process is also a way for Second Story to reach out into the community.
"There were a lot of misconceptions about us," said Dittman. "People thought we were just an emergency shelter, but we have many more programs in the community."
These programs include a young mother's assistance program, afterschool programs, social workers, shelters, and residential programs to provide homeless youth with a place to pause and recollect their thoughts for their life decision.
Second Story, formerly Alternative House, has a four-star rating on Charity Navigator, a website that ranks non-profits throughout the country.
"Being a local charity, this helps us a lot with our visibility in the community," said Dittman.
The programs at Second Story focus on homeless youth.
"These aren't just stand alone programs, kids go through all of them sometimes," said Dittman. "Kids that are homeless end up at a friend's house or end up in sex trafficking," she said.
And Fullerton, who is pursuing her degree in criminal justice in community college now, is an example of the good that Second Story has been doing for local youth.