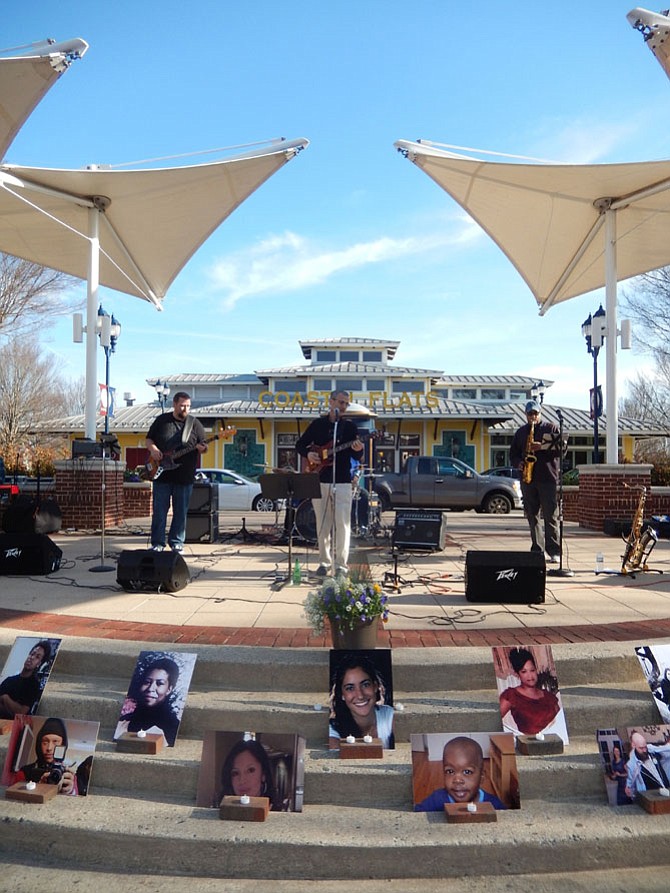 No one expects to become a crime victim. But when it happens in Fairfax County, there's a whole network of people and services ready to help both victims and their families overcome the trauma and cope with the aftermath.
And on Sunday, April 2, at Fairfax Corner, the county Police Department's Victim Services Section marked National Crime Victims' Rights Week – April 2-8 – with the 5th Annual 5K Walk and Crime Victims Tribute. Victims, survivors, family members, friends and the community participated to raise awareness of victims' rights in Northern Virginia and show support for all crime victims.
Many victims, survivors and their advocates even wore superhero capes as a sign of solidarity with all victims of crime. Large photos of some local victims were displayed in front of the stage, and the event began with a moment of silence for them. Then came several speeches before the candlelight walk.
As the county's former police chief, Dave Rohrer said he's worked with some "truly wonderful" people. "We're here today to honor and remember the victims and survivors of serious, violent crimes," he said. "But the dispatchers, police officers and detectives, firefighters, paramedics and advocates in Victims' Services and the court system, we honor you, too, for your caring, passion and commitment to serving."
Noting the event's theme of "Strength, Resilience and Justice," Rohrer said, "Most of us came here to make a difference, and we will never forget the strength and resilience that you have and have taught us. Justice refers to the legal rights victims have."
Furthermore, he said, "Safety is not just a legal right, but also a basic human right – to be free and safe in our persons, regardless of who we are, where we come from, what we look like or our status." Then, acknowledging all those "who've done so much to serve and support," he added, "We live and work in an extremely caring and empathetic community."
Current Police Chief Ed Roessler said Fairfax County is the safest jurisdiction of its size in the U.S. To the victims, he said, "You give us the strength and resilience to pursue justice and you're not alone. We'll help heal not just yourself, but our community, and we extend our blessings upon you."
Assistant Commonwealth's Attorney Jessica Greis-Edwardson said it's humbling to work with the victims and survivors of violence. "It makes me want to be a better prosecutor," she said. "Their stories are astounding and take your breath away. And it's a pleasure to be a part of helping you as you move forward."
THE GUEST SPEAKER was Joe Samaha, whose daughter Reema – a Westfield High grad – was one of the 32 people killed in the April 16, 2007 mass shooting at Virginia Tech. She was a freshman, just 18, when a gunman ended her life.
Her parents established scholarships in her name, and her father became an advocate for the VTV Family Outreach Foundation, promoting increased school and college-campus safety and trying to prevent tragedies caused by gun violence. Its Campaign 32 worked to have all states participate in the National Instant Criminal Background Check System, and another Campaign 32 (www.campaign32.org) is beginning, continuing the advocacy for campus safety and security.
When the Virginia Tech tragedy occurred, said Samaha, "There were no alert systems then for students there, or push bars on the doors to prevent their chaining [by the assailant]. Now there are more-immediate lockdowns and active-shooter drills, plus legislation helping those in need of mental-health treatment for suicidal thoughts."
"In my opinion, there were 33 victims, because I believe the shooter could have been helped [before he killed people]," continued Samaha. "On Dec. 13, 2006, he'd signed up for a [counseling] appointment, but didn't show up. He was screaming out loud for help, silently, but was not given help."
Samaha then had the crowd hold hands while he read "Reema's Inspiration," which he wrote: "From our pain, may we heal; from our fear, we seek comfort. From our grief, we are blessed; from our solitude, we seek serenity. From conflict, we find harmony; from our anger, we seek peace."
Then, to those working in Victims' Services and public safety, he offered a prayer from St. Francis of Assisi: "Lord, make me an instrument of Your peace. Where there is hatred, let me sow love; where there is injury, pardon; where there is doubt, faith; where there is despair, hope; where there is darkness, light; where there is sadness, joy.
"Oh, Divine Master, grant that I may not so much seek to be consoled as to console, to be understood as to understand, to be loved as to love. For it is in giving that we receive, it is in pardoning that we are pardoned, it is in dying that we are born again to eternal life."
SPEAKING FROM THE HEART, Samaha said, "On April 16, 2017, it'll be 3,653 days since the Virginia Tech shooting. My daughter's spirit still lives and inspires and comforts me every day. After the tragedy, I took the political path and my wife Mona took the spiritual path – but we took that journey together."
Following the massacre, he said, "There were no victims' advocates; they were turned away. The traumatized were helping the traumatized, and that wasn't good. Now, unfortunately, I'm kind of an expert on mass shootings." He then told the crime victims and survivors in the audience what he's learned:
"You are the strongest and most resilient people I know," said Samaha. "You are heroes; and in a different way, we are all family and find strength in that support – the village. As victims, we seek the trilogy – truth, accountability and apology – knowing we may never receive the full truth, complete accountability or a sincere apology.
"As victims, we learn to deal with the healing of broken bodies, broken hearts and broken minds. We learn to cope with our trauma. As victims, we have been to war and yet we find strength, not to succumb to our grief, but to take action. As victims and survivors, we honor, remember and create a living legacy for those we have lost, and those injured, to feel and enjoy the essence, the aroma and the touch of their love.
"As victims, we are resilient: We can live again, we can laugh again, we can breathe again, we can trust again, we can love again and believe in God again. And may the greatest gift given to you be forgiveness. That's what enabled me to go on to do the work I do."
Supervisor Jeff McKay (D-Lee) then gave Samaha a plaque proclaiming April 2-8 National Crime Victims' Rights Week. And after the walk, the Rev. Allan McCullough of Grace Hill Church gave a benediction.