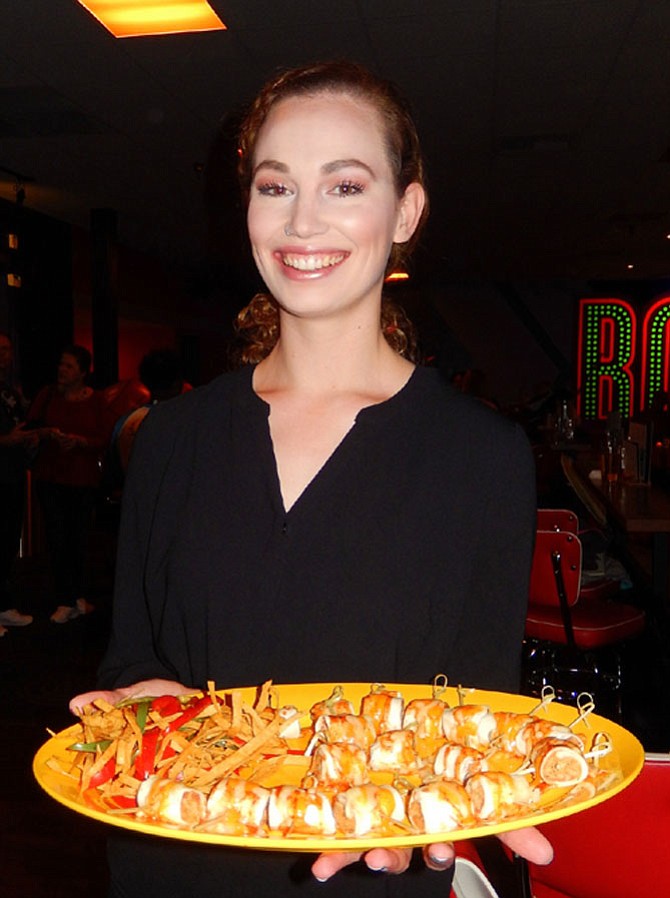 Centreville has had a bowling alley for years, but nothing like the trendy, flashy, upscale one that just celebrated its grand opening. Called Bowlero Centreville, it's still in the same place as always, 13814 Lee Hwy., but it's been completely renovated, revamped and refreshed.
The bells and whistles include 32 lanes of blacklight bowling with colorful wall graphics, an interactive arcade with an array of video games plus table-game classics such as ping pong, billiards, corn-hole toss and shuffleboard. The new sports bar serves everything from soda to specialty cocktails, and the "Go Crazy" food menu features Instagram-worthy creations like a huge, 5-pound, 14-inch hamburger to share with friends and family.
The parent company, Bowlmor AMF, transformed the former AMF Centreville Lanes into another of its brands, Bowlero. There are some 300 bowling alleys in the Bowlmor family, with 26 Bowleros nationwide – this one is the first in Virginia.
"We thought it was the right fit in this location because of the great, family demographics here," said Leanne Trent, Bowlero's Washington, D.C.-area manager. "We've slowly been renovating this site over the past two years and we're able to offer elevated drink and menu options. We always bowl under black light, and it's a more fun, family atmosphere, as well as a place where you can hold corporate events. It's appropriate for all ages."
THE GRAND OPENING was Saturday, April 1 and, by 1 p.m., 350 people had come. Many came to see Washington Redskins' veteran safety DeAngelo Hall, the event's celebrity host, and snag an autograph and photo with him. But others were enjoying themselves bowling, eating and playing the video and arcade games.
Friends invited Franklin Farm's Zack Weinstein to go with them, and he was glad they did. "I've been here before," he said. "But now, it's completely redecorated with new lights, screens, music and a deejay; it seems like a club. The staff is very friendly, it's a lot cleaner and nicer-looking than the old place and the prices are reasonable, so I'd recommend it to others."
Adela Brown's nephew wanted to check out the remodeled bowling alley, so they went there with a whole group. "It looks like they've made quite a bit of changes," she said, reaching for her soda at the bar. "It's busy and is going to be good for children, youth and adults."
Howard Marans, wife Stacy and daughter Alexis, 2-1/2, of Centreville's Deerfield Ridge community, came for both the bowling and the football player. "We're big sports people, so we figured, 'Why not?'" said Stacy. "And it's Alexis's first time bowling, so we thought we'd try it out. We went to the old bowling alley a couple times."
"It seems more family-friendly now," she continued. "I'd recommend it to friends because the atmosphere is fun. And with the music and lights, it keeps everyone entertained."
"I enjoy bowling, and it's a great place for a group activity," added her husband.
They also liked the snacks. "We got the ginormous pretzel, which could easily feed four people," said Howard. "It comes with two dips and is really good."
Besides the Party Pretzel, Bowlero is also proud of its signature Behemoth Burger – named one of America's top burgers by USA Today. And for dessert, there's Bowlero's S'Mores Skillet made with graham crackers, melted milk chocolate, oversized marshmallows, and a drizzle of caramel. Meanwhile, the sports bar offers large, flat-screen TVs and specialty drinks including the Mad Mai Tai, Old-School Moscow Mule and the Dunk Tank – a fishbowl cocktail to share with friends.
Playing Pac-Man with son Hayden Zolas, 7-1/2, while daughter Jada, 12, played another game nearby, was Jared Pannell of Centreville's Bent Tree Apartments. "I love bowling, video games and food, and this place is awesome," said Pannell. "It's one of the cleanest bowling alleys I've been to, and the video-game area is bright and the games aren't broken."
Besides that, he said, "DeAngelo Hall's in the house – hello! We bowled, too, and it was mellow. You can focus more on the lane where you're bowling because the lanes' backdrops are lit and each lane has a different color. I'd absolutely recommend it because the food's great, it's close to home, the staff is really friendly and professional and it's a fun atmosphere."
Hall brought his six children, ages 5-15, with him. "They all like bowling and video games, and they're having a good, ol' time," he said. "This place is amazing. In most bowling alleys, you've got to eat before going because the food is so bad. But this one has a five-star restaurant; you don't see these menu items at bowling alleys." Pointing at the monster hamburger, he said, "This needs to be on a food challenge; I bet nobody could eat it by themselves."
He just bought a house in Leesburg and attends Grace Covenant Church in nearby Chantilly, so Hall said he'll return to Bowlero. "We'll definitely do some team events down here, myself and the [Redskins] captain and the DBs [defensive backs]," he said. "It's a great environment and great food in a great area." And between the arcade games and the bowling, he added, "There's something here for everybody to do."