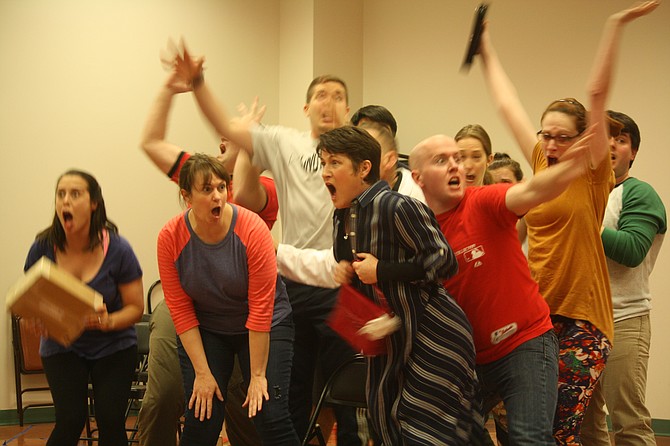 The Arlington Players (TAP) is presenting the charming musical, "She Loves Me," from April 14 to April 30, 2017. With the book by Joe Masteroff and music by Jerry Brock, the play tells the story of two 1930s European perfume shop employees who don't get along but fall in love as they exchange anonymous pen pal letters. This light-hearted and charming musical proves that opposites really do attract with unexpected romance and marvelous musical numbers.
Director Michael Kharfen said the show is one of his all-time favorites. "'She Loves Me' has been called the most charming musical ever written. It has the three elements of an entertaining show: beautiful music, genuine and sympathetic characters, and a timeless story," he said. "It also gave me the chance to work with such a dedicated and talented producer, music director, choreographer, designers and cast."
He said the play is not your typical musical of the era when it was written in 1963. "It has a smaller-sized cast and there are not many large-scale musical numbers," he said, adding that it is not considered much of a dance show either. "But our gifted choreographer Cathy Oh and her assistant choreographer Karinn Cologne added many clever and fun dance elements to the show."
He added, "'She Loves Me' is a romance about relationships and aspiration for one's true soulmate. It is an enduring story of how the discovery of love can come to the most unexpected people in the most unpredictable way."
Producer Barbara Esquibel said there is no way that you would walk away from "She Loves Me" not feeling joy. "It is a story about love, and who wouldn't want to feel joy for watching people fall in love," she said. "I also hope [audiences] walk way feeling amazed by the talented cast that was on the stage, the beautiful orchestra they heard, and the amazing design elements that bring the show together."
Jolene Vettese plays the role of Amalia Balash, who is romantic at heart but not afraid to go after what she wants. "She's sassy, sweet, and silly," she said. "And she is in love with her dear friend who we find out through the course of the show is Georg."
She said her challenge in the role was tapping back into her soprano voice. "I've been playing roles where I belt or mix a lot the last few years, and to really get to sing these iconic soprano songs was so exhilarating," she said.
Sam Nystrom plays the role of Georg Nowack, a clerk at Maraczek's Parfumerie in 1930s Budapest. "He's joined a lonely hearts club and has been writing letters back and forth to 'Dear Friend,' whom he has never met in person," he said.
He feels a deep connection, only to find out that "Dear Friend" is actually Amalia Balash, a fellow clerk who he does not get along with and cannot stand, he said. Georg is torn about what to do — reveal to Amalia that he is the one who has been writing to her and risk her wanting nothing to do with him, or confess that he is her "Dear Friend," and hopefully end up with his soulmate. He said the show explores how he handles this conundrum.
He added, "The songs were written by Jerry Bock and Sheldon Harnick, who also wrote 'Fiddler on the Roof,' and it's a great show from the 1960s that is not performed all too frequently....it is utterly charming and features individual moments for all the major characters."
Mikel Rios plays the role of Ilona Ritter, a character with a lot of passion. "While not exactly book smart, she knows precisely how to attract a man," she said. "The problem is, she's constantly pursuing the wrong kind of man. I love her exuberance and her gradual discovery that she deserves more when it comes to love."
She said the challenge was not slipping into the temptation of making a caricature. "Ilona is so much more than the ditzy, voluptuous blonde, so I try to bring out her savvy, her vulnerability and her genuine warmth to the people around her," she said. She added, "This is such a delightful, feel-good experience; even in rehearsals I find myself laughing or tearing up when I watch the characters. 'She Loves Me' is the perfect show for anyone wanting to escape to a simpler, happier time; it's a story about love — who couldn't use more of that?"
John Barclay Burns plays the role of Mr. Maraczek, the benevolent owner of the store and something of a paterfamilias to his clerks. "During the play, his suspicion that one of those clerks is having an affair with his wife darkens his geniality. In the end kindliness wins," he said.
He said it was a challenge to sing and dance in rehearsals since he hadn't done so in a while. "The nuances in Maraczek's character had to be addressed successfully," he said.
Trevor Telesz plays the role of Arpad, the delivery boy at the parfumerie who is literally on the cusp of adulthood. "He's not a boy anymore, but people don't quite view him as a man yet. So throughout the show, you see him grow and develop more as an adult, and you see him desperately wanting to be treated as an adult," he said.
He added, "All in all, I think Arpad's individual journey is one that people of all ages can relate to because it touches on people's shared experiences of wanting affirmation and approval, but also brings some humor and innocence."