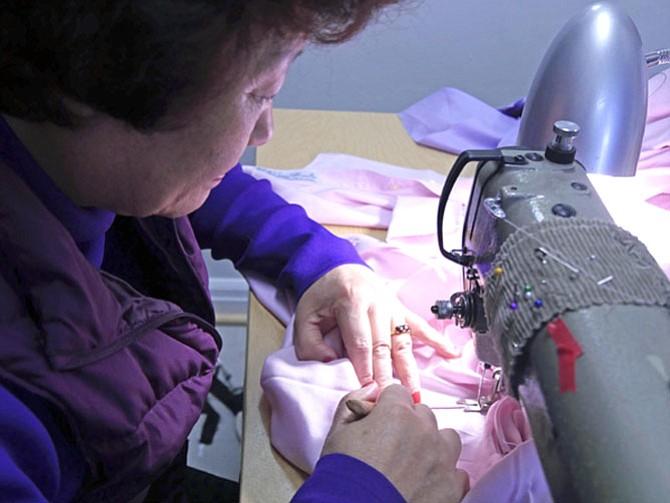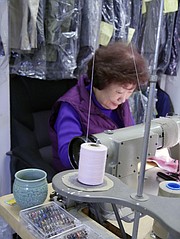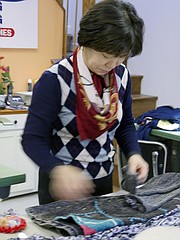 The steady hum of the 20-year-old Singer sewing machine fills the front room at Suh's Custom Tailors on S. West Street. Sun Lee, a tailor at Suh's for over 20 years is working on alterations for a man's shirt. Lee has measured the customer and will trim the side seams on the shirt.
She has ripped out the old seam and clipped off the extra fabric. Now she carefully folds the fabric under and double stitches with strong cotton thread for a secure seam. Lee says she does maybe 20 garments a day from 10 a.m.- 7 p.m. depending on what she is altering. She estimates this shirt will take her about 45 minutes to complete.
"We do what the customer want." Lee's friend is standing nearby to act as translator when needed. She says that Lee could make a shirt but it would cost $800-1,000 and would take a long time. So she tells a customer to buy a shirt for maybe $200 and bring it there to be altered. It is faster and saves money.
Dresses in plastic bags hang on one wall, some long and formal and others everyday wear, with one wedding dress hung at the end. Lee remembers that for 10 years the hems would be short, then for 10 years they would be long, then back up again. A rack of men's jackets and trousers hangs behind Lee's workspace. Lee says that men's shoulder alterations are the hardest thing to do but hems are easy. "The fabric on men's shoulders is thicker and you have to take fabric out here and cut it there."
Lee's friend volunteers, "Customers always go to the same place and don't want to go anywhere else. New people come in and are always afraid — can she do it? She is very good. She has been doing this all of her life."
Eunice Moon stands nearby at a long table. She is removing a dress pocket and working down the seams with a razor blade. She says she will also fix the sleeves. "This will be easy because there is no lining so I'll just hem them up." Moon has been at Suh's for three months after working in D.C. for six years, and she does the easy jobs to get garments ready for Lee.
Lee says that she alters dresses, jackets, blouses — whatever the customers bring in. She adds that making the alterations is very similar in Korea and America, just fashions are different.
Lee went to tailoring school in Korea for three years when she was 23-years-old and after graduating, she taught for five years. She came to America with her husband in about 1987 and worked at Fair Oaks Mall for a long time and then moved to a business in McLean. Lee says she ended up in this profession because she wasn't interested in studying in school. "So my father said 'why don't you take up sewing and get married to a good man.'" Her friend adds that she did get married to a good man because she doesn't even know how to put the gas in her own car because he has been doing it all these years.
People at Work is a weekly column focusing on the people in the community doing their jobs. Send suggestions to slrbc@aol.com.