Great Falls — The Great Falls community is made up of many people who give their time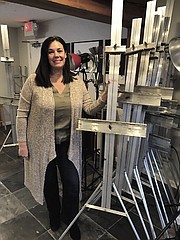 freely, and Julie Casso is a well-known member of that group. Born in Indiana and a Northern Virginia resident since 1988, she settled in Great Falls in January 1997. Her eye was always on this area. "It was always Great Falls; I always wanted to be in a rural setting, but not far out like Warrenton," she said.
Casso has been the Executive Director of the Arts of Great Falls (formerly
"I have known Julie since our children were in preschool, and there are so many wonderful things [she] has done for our community."
— Claire Abbott
the Great Falls Foundation for the Arts) for the past four years. However, volunteering has always been a big part of Casso's life here.
Two short years after relocating here, she became president of her neighborhood's homeowners association and led the charge to get the permanent signage now found at Windermere off Georgetown Pike. Then she began helping out her child's daycare, Village Green Preschool on Walker Road.
"I was [volunteering] and then became the co-chair of the parent advisory committee," Casso said. During that time, she attended July 4th events and learned of the Great Falls Friends organization from a friend. After a few years of helping as needed, she and another woman stepped up to run the festivities. She recalls, "the event was going to go away due to no one wanting to take it on. So, since 2003, I've been the chair of the July 4th parade and green festivities."
Casso was among those who pulled many local organizations under the umbrella of the new Celebrate Great Falls Foundation. "It was important to get the long-time residents involved in other groups to trust that we would keep the traditions alive," she said.
One of those traditions is the July 4th celebration. "The July 4th parade, green activities, and the fireworks … that tradition is our small town, hometown celebration. The parade is going to happen whether we're there or not. The people know what to do. The same man is there every year, early in his car and everyone else just lines up behind him." Casso enjoys all aspects of the event, especially the people watching. "The best part is running into your neighbors, seeing the familiar faces. I love seeing the older residents that come just to watch; they don't have kids around anymore, but they still show up."
One of Casso's friends and a fellow volunteer, Claire Abbott, said Casso is a vital part of the community. "I have known Julie since our children were in preschool, and there are so many wonderful things [she] has done for our community. [It] seems she has been involved in something helpful since I have known her. She can really rally people to join in to help the community — always with her huge smile and unique laugh," said Abbott. "Julie has a knack for engaging people and our youth, and knows everyone's name and something special about them. She can add a sincere personal note to every greeting. Julie can make even hauling water and generators in a power outage or snowstorm seem like fun. Despite all the well-known organizations she has been a part of, I think she is especially proud of her Nike Park sports field recycling bins. She single-handedly emptied our local children's multitude of water and sport drink bottles for recycling for years."
Betty Swartz, a life-long resident and volunteer, has worked with Casso in many local groups and agreed. "There's not much we all haven't done together over the years," said Swartz.
You can join Casso's team of July 4th volunteers by signing up at www.celebrategreatfalls.org/4th-of-july-celebration-parade/.
And check out the many classes, workshops, and exhibits given at the Arts of Great Falls at www.greatfallsart.org/.