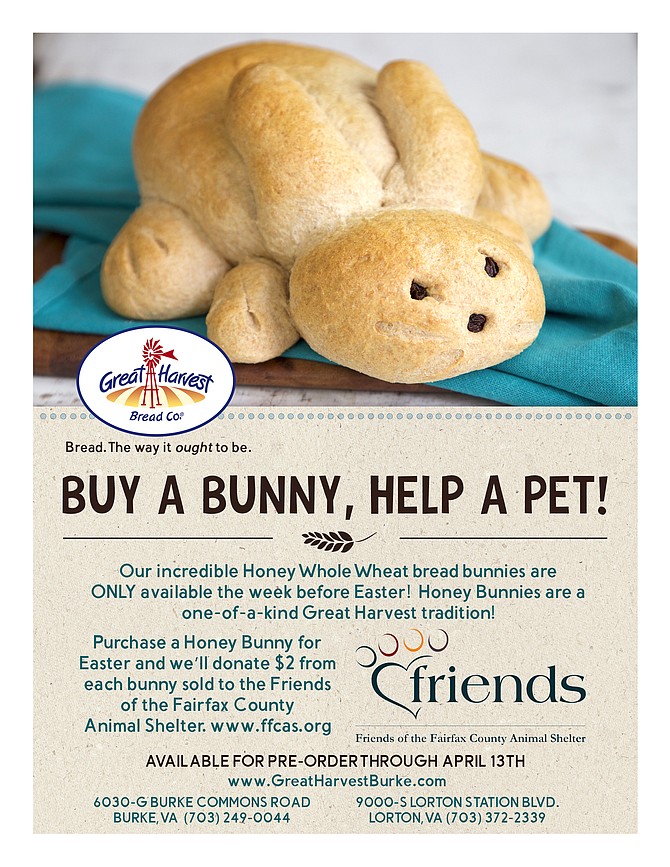 Burke — Great Harvest Burke & Lorton Announces Return of Hot Annual Easter Menu Items
Customers to see limited-time foods, including famous Honey Bunnies, Hot Cross Buns and Sugar Cookies
Burke & Lorton, VA — Great Harvest Bread of Burke & Lorton has announced the return of one of its most popular seasonal items, the "Honey Bunny," just in time for Easter.
Beginning this April, the Great Harvest Burke & Lorton bakery-cafe will offer Honey Bunnies, a bread bunny handcrafted by artisan bakers that include only five simple ingredients: Great Harvest's fresh ground whole-wheat flour, honey, yeast, water and salt. $2 from each Honey Bunny sale, the week of Easter will benefit Fairfax County Animal Shelter. A perfect centerpiece for Easter tables, the bunnies are made without additives, preservatives or conditioners.
Great Harvest will also offer Hot Cross Buns, its popular Virginia rolls, and a variety of other sweet and savory items for the holiday, including Easter sugar cookies. Easter Ambrosia Bread is an annual favorite at locations across the country and store owners recommend early purchases to ensure they do not run out. Great Harvest will continue to serve a variety of sandwiches, pastries, muffins, soups and salads for breakfast, lunch and dinner as well.
"Honey Bunnies are unique to Great Harvest and one of our favorite seasonal items on our menu," said Jeanette Moler, Owner of Great Harvest Bread Co. in Burke & Lorton. "We take special amounts of time out of each day to create these bunnies with precision and fun, to make them a perfect, delicious addition to Easter lunches and dinners all over the country."
Cinnamon rolls, scones and bars will also be available to the public.
Great Harvest Bread bakeries make bread from scratch with whole grains shipped directly as wheat berry from select farms in Montana's Golden Triangle. Every day flour is milled fresh from the wheat berry at each local Great Harvest bakery. Generally a five-hour process, the baking begins every day as early as 2:30 a.m. Every loaf is kneaded by hand, baked and served fresh to all guests who enter at all three dayparts – breakfast, lunch and dinner.
For more information on Great Harvest Bread of Burke & Lorton, visit www.greatharvestburke.com or call 703-249-0044.
About Great Harvest Bread Company
Great Harvest Bread has spent the past 40 years perfecting the combination of ingredients to make the freshest and authentic breads and pastries, as well as the newer sandwiches, grain bowls and soups, growing to over 200 locations, all of which continue to mill their own Golden Triangle wheat every morning from scratch. Providing local communities with authentic breads and pastries made fresh daily, the brand is now growing through franchising with a new bakery-cafe model ideal for multi-unit ownership. Open during three parts of the day—breakfast, lunch and dinner— the menu has grown beyond a wide variety of soft, delicious breads to include soups, sandwiches and grain bowls. To learn about franchising opportunities with Great Harvest Bread Company, go to https://www.greatharvest.com/franchise.