To create change, teach the children. After a multi-year absence, Hutchison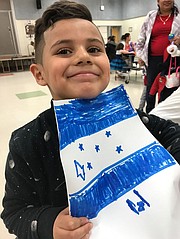 Elementary School in Herndon opened their doors Thursday evening, March 30, for the return of International Night. The event attracted Hutchison children and their families, many from different cultures and backgrounds.
"We hadn't done an International Night for a few years," said Maureen Griffin, Hutchison staff and event organizer. According to Griffin, after an assessment of the previous programs, a different educational experience was shaped. "The new format allows art and performance to be the featured elements," Griffin said.
The organizers sought to bring positive energy to the exchange. The many enriching hands-on craft and display activities invited the children and their families to participate and learn about other cultures, increasing awareness and support for others.

Having these activities be the focus, better engaged the children and achieved the program's goal to celebrate and embrace differences between nationalities.

"We wanted to bring people together to celebrate their differences," said Griffin.