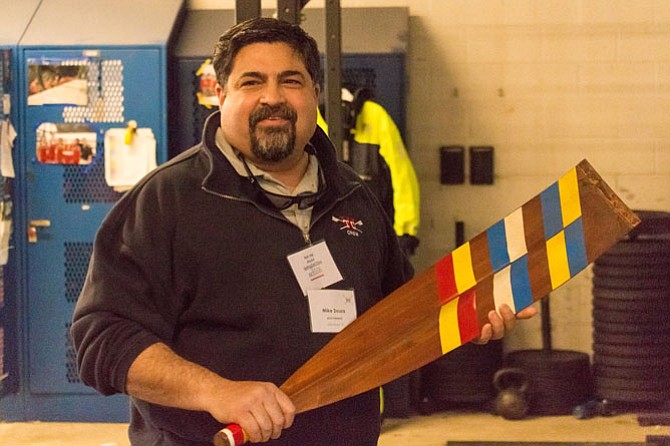 Calm pre-dawn waters greeted the T.C. Williams High School Crew team and their rivals from McLean High School on Saturday, March 25, as they gathered at the Dee Campbell Rowing Center in Alexandria for a scrimmage to kick off the Spring 2017 season.

The Titans begin the season with approximately 150 scholar/athletes on the roster ranging from a crop of 8th grade novices to this year's highly decorated seniors, some of whom already have committed to row in colleges with top-tier rowing programs.
Veteran Men's Head Coach Peter Stramese and Women's Head Coach Pat Marquardt lead a group of coaches for the 2017 season, including Peter Hearding, Jaime Rubini, Kelly Kim, Enoch Cleckley, Matthew Schilling, Colin Cantfil, Jeff Coan, Jr., Shannon Hoff, Chris Ottie, Andrea Huggins, Diane Woods, Azim Khodjibaev, and Beth Yancey.
The March 25 scrimmage continued a tradition that dates back to March 1949, when the second year Alexandria George Washington High School crew team scrimmaged against the inaugural rowing team from Washington and Lee High School.
The long history of Alexandria high school rowing also was highlighted after the scrimmage when Jerry Kelly, captain of the first T.C. Williams crew team following the 1971 merger of the Alexandria's George Washington, Francis Hammond, and T.C. Williams High Schools, presented an oar marked with the three-color patterns of the three schools to Alexandria Crew Boosters President Michael Souza. The oar had belonged to Kelly's father, who had been ACB president during that transition and signified the new unity of the team.
The Titans begin the official Spring regatta season on Saturday, April 1, at the Noxontown Regatta at St. Andrews School near Middletown, Del.