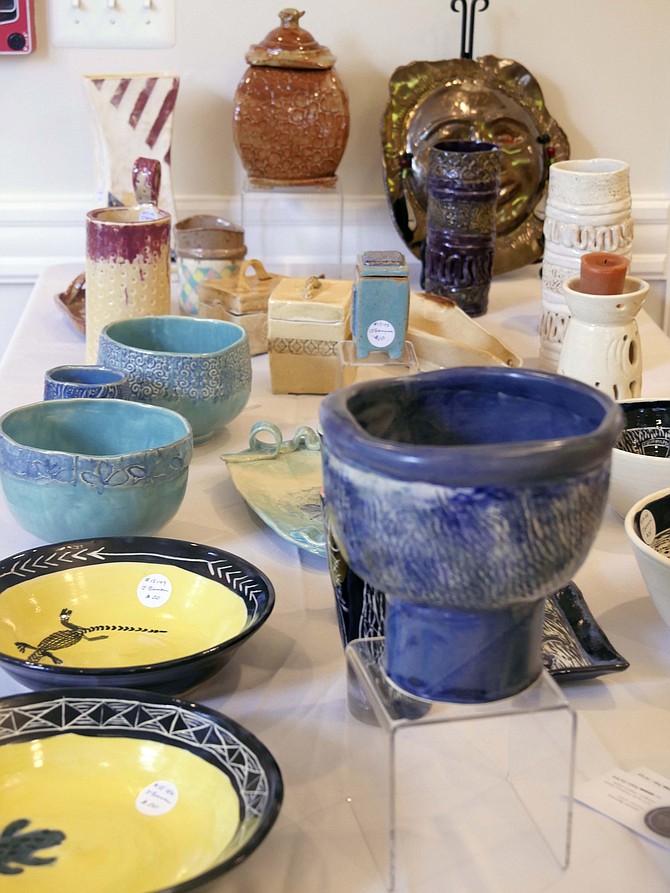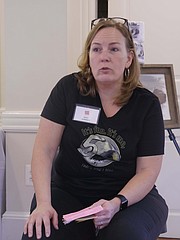 Ever wonder if people are just born funny? Mary Jennings, teacher of The Art of Comedy at ArtFest 2017 on April 1, said, "Some people are born funny but timing can be learned." Jennings explains that she does watercolor, oils and other art but comedy is just another way of observing. She says she got started in 2009 when she did an art show upstairs from a bar called Eleven. I decided to do a single woman show in the bar. I didn't know what I was doing."

She explains that you have to have a topic, attitude and premise, which give you the set-up for your routine. A fellow named Will has come to the workshop because he has always been interested in comedy and, "You can't study comedy in college. And my sister is funny and I want to know why." Will decides his topic will be fitbits, the exercise watch. He says they are annoying because they buzz every hour if you have been sitting.
Jennings asked: "When it buzzes, what do you feel like?"
Will said, "It is nagging but I'm wearing it so I'm nagging myself."
Jennings says that is a great premise.
Will writes down a few sentences and tries it out.
Jennings said, "That's a good start but you gave the punch line too soon; you need to capture the audience." She explains that if he heard himself, he might see that someone might not have heard it the way he meant it. "Play it back and listen."
Jennings urges Will to have a notebook with him at all times because he will have an idea and it will just float away. She reads off one of her recent thoughts: "My arms are so short that when I take selfies, I only get nostrils."
Jennings says It took courage for Will to come here today. He says after this he will have to sign up for the Marines (because that takes courage.)" Will added, "I had to get drunk in college to have people think I was funny. I am logical." Jennings said, "You can work with that."
Jennings explains you can be physical with your comedy, which is her style, or some people just have a way with words. She remembers when she climbed down into a sewer to retrieve her lost cell phone. "It's easy to get down," she says pinning her arms flatly against her body. "But try to climb get back up. There were three men offering to help me but there was no way they could reach down. So I put up my arms and wiggled," as she demonstrates, "first one cheek, then the other until I emerged covered with crud." She says she formed a lifelong bond with the three men.
"As a comic, you are a nobody and you have to earn your way up from the bottom. Otherwise you'll be doing comedy in front of the janitor." She says some venues want you to bring your posse of friends and each one has to buy two drinks. Jennings says a comic has to be constantly flexible. "Someone will throw in a distraction and you have to be able to incorporate it as though you had planned it."
The Art of Comedy is part of ArtFest, a week full of art offered by the Arlington Artists Alliance including an art show and free workshops. The art show continues Wednesday-Thursday from 12-4 p.m. with the final day Friday from 10-12 p.m.
Workshops on Saturday, April 1 also included Dance on the Terrace, a fresco dance performance of ancient art movement performed by the Sultanas Dance Troupe.
Gilding Techniques in Iconography with Laura Clerici has been rescheduled for Saturday, April 22 at 1 pm at the Gallery Underground in Crystal City
On Thursday, April 6, 1-3 p.m., Contemporary Acrylic Painting is led by artist and instructor Jane Coonce.
On Friday, April 7, 10 a.m.-12 p.m. is "I Bought Some Art. Now What?" Learn about art display with Mary Jennings.
These events are held at Hendry House located on the grounds of Fort C.F. Smith at 2411 N. 24th Street. They are sponsored by the Arlington Artists Alliance which is a non-profit organization supporting artists in Arlington County.