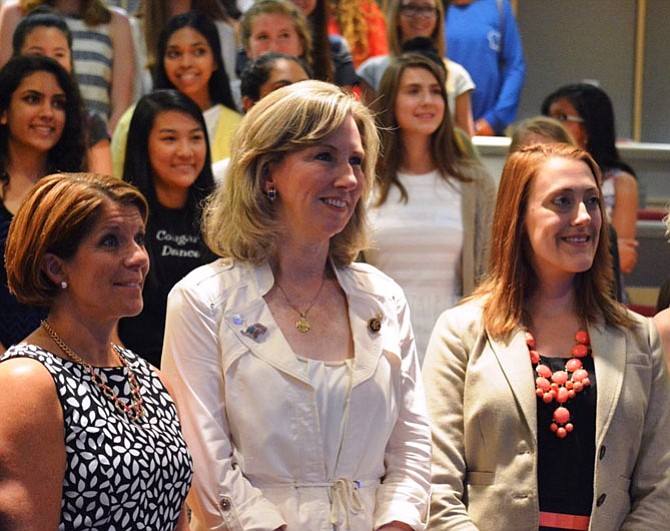 As LuAnn Bennett, the Democratic challenger for Virginia's 10th Congressional District seat, spoke to supporters at a political "house party" in Herndon, a New York Times reporter stood to one side, taking notes.
Last week, Barbara Comstock, the 10th District's freshman Republican, was shadowed by a reporter from The Wall Street Journal as she met with constituents during several campaign events.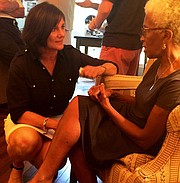 The national media attention is just one indication of how the 10th District is being tracked as a crucial battleground race in a "bellwether" district. In the 2014 midterms, Comstock easily retained the seat of her GOP predecessor and mentor, U.S. Rep. Frank R. Wolf. When Wolf announced his retirement in 2013, ending a distinctive three-decade career in Congress, the seat instantly became battleground territory.
The race has even attracted attention outside the United States. In August, the BBC featured a story about the negative impact Donald Trump, the GOP's controversial presidential nominee, may have on "down-ticket" Republican candidates.
While Comstock has repeatedly declined to say if she supports the man at the top of the GOP's ticket, Democrats have repeatedly tried to tie Comstock to Trump.
Money
Top Democratic leaders consider the 10th district one of a dozen prime pick-ups in their path to regaining a majority in the House. Earlier this month, the Democratic National Committee (DNC) signaled its support for targeted House races by transferring $2.5 million to help them out.
In Washington's costly media market, each candidate has been modest in purchasing air time.
So far, Bennett has released two ads: her first ad was a biographical spot, featuring the candidate at work and with her family. Her second ad highlights the gender wage gap in the district, and her support for equal pay for women. Comstock released her first general election ad last week, a spot that features her daughter Caity speaking about her mother's legislative accomplishments.

Bennett is one of three Virginia Democratic Congressional candidates included in the Democratic Congressional Campaign Committee's "Red to Blue" program, which offers targeted campaigns "financial, communications, grassroots, and strategic support."
Comstock appears prepared for the battle, as she has raised well over twice as much money as her opponent's campaign.
Through June — the last Federal Election Commission reporting date — Comstock's campaign had total receipts of $3,246,229, and was still holding $2,256,612 in hand. The Bennett campaign had raised $1,207,309, and had $871,830 remaining.
Debates
In the fight for votes, the two McLean residents are preparing for their first debate, sponsored by the Loudoun County Chamber of Commerce, which will be held Oct. 6 at the National Conference Center in Lansdowne. Comstock and Bennett will clash again on Oct. 19, at a second debate, at the Northern Virginia Chamber of Commerce in Tysons.
The 10th congressional district includes Chantilly and Centreville.