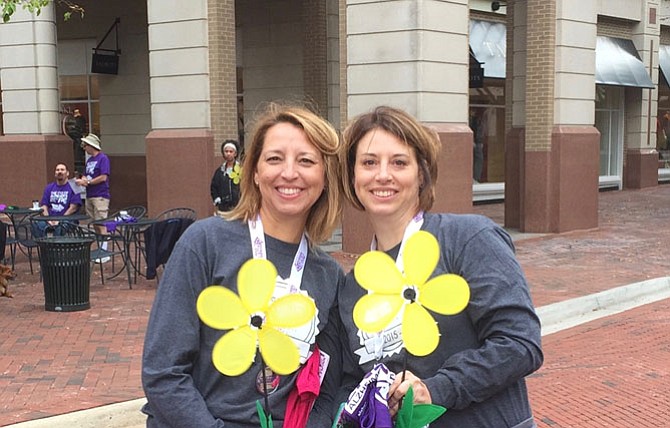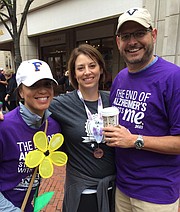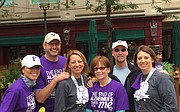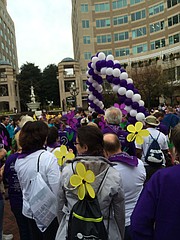 When Paula Dierkes was growing up in Arlington, she would often hear family stories of a grandfather who sat on his front porch screaming at his neighbors and asking for his shotgun. She recalls a grandmother who shut out her family, literally, by closing doors and windows when they came to visit.
"As a child, I thought they were just grumpy, old people," said Dierkes. "But looking back, I realize that it was probably Alzheimer's."
Dierkes' mother was diagnosed with Alzheimer's Disease and now lives in the memory care unit of a Fairfax nursing facility. "She is this woman I see, who looks like my mom, but it's not my mom," said Dierkes. "It's not the same woman who I would go to crafts fairs with and have coffee with. That's what's so sad about this disease."
Ilissa Belanger lost both her mother and mother-in-law to Alzheimer's. "My mother-in-law had it for 10 years before she died," said Belanger who lives in Fairfax. "Shortly after, my mother was diagnosed and suffered with it for five years. So it was back-to-back. The experience makes you realize how devastating it can be on your loved ones."
Patty Schuebel of Great Falls says her father has been living with Alzheimer's for nearly seven years. "It's been quite eye-opening to go through this journey with him," she said. "You don't really understand how horrible this disease is until it affects you directly."
It is personal experiences like these that have led Dierkes, Schuebel, Belanger and thousands of others to join the Alzheimer's Association's Walk to End Alzheimer's in Northern Virginia, an event designed to raise awareness and funds for Alzheimer's care, support and research. Held each year in September, World Alzheimer's Awareness Month, more than 600 communities around the country join the effort. This year, the Northern Virginia event will be held on Sept. 25 at the Reston Town Center in Reston.
"The walk brings the community together to support each other and to raise awareness about Alzheimer's and offer support for families going through it," said Belanger.

Participants form teams to honor a loved one affected by the disease.

Schuebel is the captain of her team, "Steps for Dad." This will be Belanger's ninth year joining the event with her team, "Walkers for Miriam and Anita."
Dierkes' team is called the "Baldinelli Battlers."
"We may have this disease genetically in our family," said Dierkes. "So we're fighting this together and working to get the word out and raise awareness and money."
Each walker will also join a ceremony to honor those affected by Alzheimer's disease. Known as the Promise Garden Ceremony, the experience gives walkers an opportunity to receive a promise flower and write a personal message on it. Colored flowers used for ceremony represent the diverse reasons participants join the walk.
Blue represents someone with Alzheimer's or dementia. Purple is for someone who has lost a loved one to the disease. Yellow represents someone who is currently supporting or caring for someone with Alzheimer's. Orange is for everyone who supports the cause and vision of a world without Alzheimer's.
"I would love to be able to give my kids the gift of saying 'I know an Alzheimer's survivor,' said Dierkes. "We're looking forward to that day when there is a treatment, or better yet a cure, for this wicked disease."
The 2016 Walk to End Alzheimer's in Northern Virginia is scheduled for Sunday, Sept. 25. For more information visit http://act.alz.org/site/TR/Walk2016/DC-NationalCapitalArea?fr_id=8887&pg=entry or contact
 Sonya Amartey
 at 703-766-9025 or samartey@alz.org.