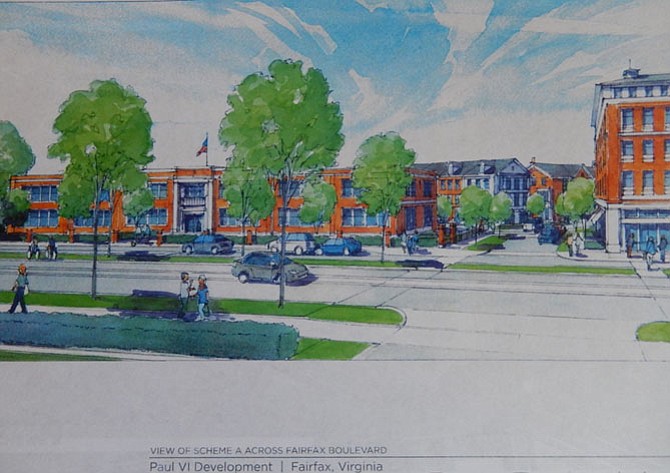 Since Paul VI High School will leave the City of Fairfax in 2020, plans are underway to redevelop its 18.5-acre site along Fairfax Boulevard. And last Tuesday, Sept. 6, developer IDI Group Cos. presented two possible design concepts to a joint work session of the Fairfax City Council and Planning Commission.
After garnering input from local residents and City staff, IDI revealed specifics of what it considers a mixed-use development. And recognizing Paul VI's significance to the community – it was the original site of Fairfax High – both concepts pay homage to its building's history.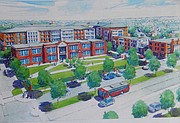 Scheme A demolishes the existing building, but constructs a replica elsewhere on the site to commemorate it. This plan also proposes 242 apartments, 260 condos, 110 townhouses, 34 units of senior, affordable apartments and 20,000 square feet of commercial/community space on the first floor of the apartment building.

Scheme B preserves and reuses the original portion (about 24,000 square feet) of the existing building where it is. It contains the same amount of senior housing and commercial/community space, but has 214 apartments, 219 condos and 108 townhouses.
Scheme A has denser development, with 646 total residential units; Scheme B has 575 total units. Both plans also include usable, open spaces and show the senior housing inside the school building.
The site is within the block bounded by Fairfax Boulevard, Oak Street and Cedar and McLean avenues. Some 66 percent of it is zoned commercial, and 34 percent, residential.
BOTH PROPOSALS provide vehicular access to the site via an existing access point from Oak Street and several points along Fairfax Boulevard. No vehicular connections are proposed between the site and McLean, Cedar or Keith avenues. A service road would run the length of the Fairfax Boulevard frontage, and McLean Avenue would have a shared-use path.
"We started over one year ago to reach out to the City to solicit input from key stakeholders and the larger community about their vision for this project," said IDI executive Enrico Cecchi. "We also had open meetings with the public and City officials and staff.
"We plan to have a third, public meeting in October before we submit our application because we want to have broad-based, public support," he continued. "We've listened to the public and included their input in our plans."
IDI's lead design planner, Colin Greene of Streetsense, said Scheme A's density is more toward Fairfax Boulevard and the south and east. The townhouses will have alleys leading to them, and the buildings fronting on McLean Avenue will have 30-foot setbacks.
"A new building to commemorate the history of the school would have similar window patterns and brick," said Greene. "But we could build new [air conditioning and heating] systems and address ADA issues."
In Scheme B, he said, the density is against Fairfax Boulevard for the apartment building, tapering off toward the single-family homes on Cedar and McLean. In both plans, said Greene, "the apartment building has structured parking in the middle, but the condos have parking underneath. There'll also be pedestrian and bicycle connections to the existing neighborhoods, open space for public use and parallel parking on all the streets."
In both proposals, the two multifamily buildings at the site's core would be four stories high at the street and five stories in the setback, but taper off toward the nearby neighborhoods. The townhouses, mainly located closer to McLean and Cedar avenues, would be three stories. And the preserved or rebuilt portion of the school would be two stories.
Councilman Michael DeMarco said Scheme A is more visually appealing because of its symmetry. And he liked the senior housing, plus the mix of for-sale condos and rental apartments. However, some things bothered him.
"I like the low profile along Cedar and McLean avenues, but I think there may be too much density and not enough commercial development on site," DeMarco told the developer. "It's more of a residential project than mixed-use, so it needs more balance."
Councilman David Meyer, too, was concerned about the overall density and said Scheme A has "better proportionality and cohesiveness." He also asked whether a "significant portion" of Paul VI's building – not just its façade – should be retained. And noting that McLean Avenue's utility easement is on the west side, he said the developer's undergrounding of the utilities to each of the existing homes there is a major consideration to him.
Similarly, Councilwoman Ellie Schmidt said there's too much density. But she liked the green space and housing diversity and favored the "adapted reuse of the original school building." She was pleased that the senior, rental apartments for independent living will be affordable, but said public transportation should be nearby because "There's not much senior parking."
Councilwoman Janice Miller said the senior housing "will be very welcome." She also liked reusing Paul VI's building and asked if there's "a way to preserve some of the west side of the building, where the auditorium is, rather than putting condos between it and the McDonald's?"
"I like the 30-foot setbacks for the houses along Cedar and Keith," she added. "And the bike lanes, landscaping and wide walking paths will help mitigate the three-story buildings. But the amount of community space proposed doesn't really meet the need for community development along Fairfax Boulevard."
AGREEING with her colleagues about the density and over-abundance of residential units proposed, Miller said, "Located between Route 123 and Kamp Washington, it's the heart of a traffic nightmare, Monday through Saturday." She also asked about parking.
Greene replied that apartments and condos will have 1.6 spaces per unit, and two cars may be parked in each townhouse garage. Seniors will have surface parking behind their homes, and there'll also be about 175 spaces that aren't for residents. "And we're looking for additional parking for [nearby] Pat Rodio Park," he said.
Miller said that, during Little League games there, "There'll be 75-90 cars and they could adversely impact the new residents. So you might want to contact Little League personnel to work out the parking issue."
Councilman Jon Stehle thanked IDI for its community outreach, but said more commercial uses are needed. "I'm concerned about the open space," he said. "There's not much to do in it and we're losing some field space." Stehle also said the City needs to better understand what's inside Paul VI's building and the options it could provide.
Planning Commission member Joseph Harmon preferred preserving the building and suggested more commercial to the right of the townhouses. Colleague Dennis Cate also favored preservation and wanted more information about guest and overflow parking.
At the end, Cecchi said, "We appreciate your feedback and will take it to heart. And we envision the open space for community, active use; a [formerly] private site will now be public. This could really be a jewel for the City. But we'll take your density comments seriously and will respond to them."