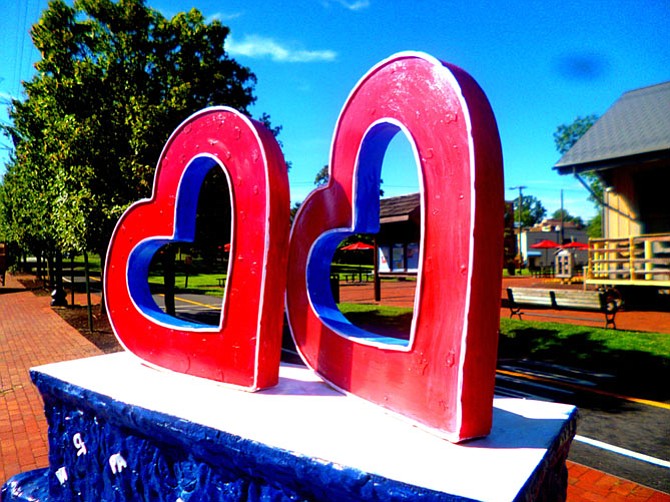 Herndon resident Vida Khadem is an artist, painter, writer, filmmaker and believer in the power of art. Born in Afghanistan, she and her family left for the United States where she was raised in Virginia. Khadem resides in the Town of Herndon, not far from Herndon Middle School. On her online biography, Khadem says she has been painting since age four. "This is what moved me, I love the arts," said Khadem.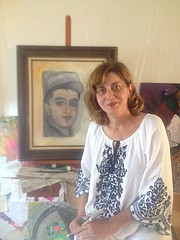 In July, a temporary installation called "United Hearts" was created for Town of Herndon as way to show the artist's love for the country and people of America. "The project was financed by myself and by the support of few local businesses in Herndon who endorsed my thought and idea to whom I am grateful," said Khadem. The piece was on display next to Town Hall starting July 4 for two weeks and now is on display at the Garden of the Embassy of Afghanistan in D.C. Khadem also has an art exhibit, "On The Edge Of Eternity" on display at the Embassy of Afghanistan until November.
A car accident two and a half years ago led Khadem to rethink the states of life and death, inspiring what would become her next art project, "On The Edge Of Eternity," a collection of art pieces with titles such as "A Matter of Body," "What Is Time," and "The Working Ant." "Life is so fragile... all of us are here for a short amount of time," said Khadem.
Khadem studied at Herndon High School (class of 1990), George Mason University, and then studied film making and script writing at NYU. "This project was possible by a collaborative effort based on goodwill, trust and love of many people, starting with Town council of Herndon, and most importantly Mayor Merkel," stated Khadem. Khadem credits Town of Herndon Manager Art Anselene who helped shape the art project. It was also endorsed by the Embassy of Afghanistan, the cultural Attache Mr. Qarar, and Commercial Attache Mr. Musamam, who the artist says were instrumental in giving the message a greater voice.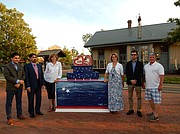 Some of Khadem's work can be seen on Art By Vida.com/portfolio. "I like to bring freedom of the heart and mind... this is what I like to share in 'United Hearts,' I enjoy combining art with poetry. I am really humbled from all the love I have received from the Town of Herndon. There has been so much disturbing news I wanted to create something positive, there is always a fight between the good and the bad," said Khadem. "Herndon has changed, it comprises people from different worlds," said Khadem.
A VIP reception was held in September at the Afghanistan Embassy in D.C. attended by Khadem, Herndon Mayor Lisa Merkel and Vice Mayor Jennifer Baker. "It was an absolute joy to meet Vida and see her expression of love and unity through her artwork. The Vice Mayor and I were honored to attend the opening of her gallery exhibit at the Embassy of Afghanistan last week, where the focus was on uniting as one world, welcoming all and taking care of one another. A beautiful sentiment, and what Herndon is all about really - neighbors embracing neighbors," said Town of Herndon Mayor Lisa Merkel.