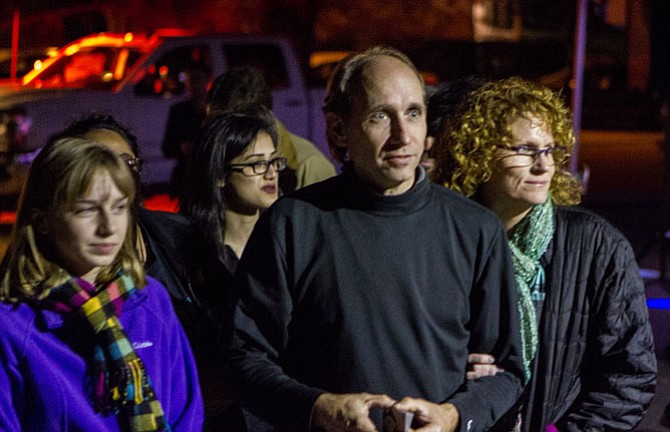 Herndon — Looking for some spine tingling fun this Halloween? Right here in Herndon, the Bradley Farm Haunted House promises everyone a ghoulishly fun time for just $5 a walk-thru. This all-volunteer, community fundraising event returns one last time Oct. 28-29, 2016 for its 10th and final season. All proceeds go to help Herndon – Reston FISH bring emergency help to folks in the community.
This year's theme is "Spirits of the Past." Join some local "ghost hunters" as they explore the depths of this haunted barn that has hosted so many phantoms over the years. Who knows what spirits may turn up to bid you a fond farewell? On Friday and Saturday evenings from 6-10 p.m., the Bradley Farm Haunted House offers a dark and scary adventure that's perfect for tweens, teenagers and adults. For the even younger crowd, there's a non-scary version available on Saturday afternoon from 1-5 p.m. The milder version will include trick-or-treating inside the haunted house for children 10 and under. Local vendors have provided many giveaways for the "monsters" to hand out to the children along the haunt.

After you brave the Haunted House, you can visit the concession stand to chase away your "chills" with warm caramel apples and hot cider. Papa John's Pizza will also do their best to make sure you don't leave hungry. This year's outdoor entertainment will offer a variety of musical acts, dancers, and magicians. The entertainment lineup for 2016 includes illusionist Mario Orsini and bands The Franklin Project and dedWAX.

Each year the Haunted House draws thousands of visitors. Plan to arrive early to get your tickets and be assigned a group number. Then enjoy the entertainment, food, and games while waiting for your turn to be terrified. For a chance to win a family four pack of passes, be sure to "Like" us on Facebook! Winners will be announced on October 27th on Facebook!
Oct. 28-29: Happy Hauntings
This year's final haunted event features:
Family friendly Halloween chills and thrills
Plenty of Halloween monsters, sets and creepy sights.
A final year of haunting promises fresh takes on old favorites.

Gooey caramel apples, toasted s'mores, hot cider and popcorn concessions
Fresh pizza provided by Papa John's Pizza
*Children's Trick-or-Treating (Saturday, 1-5 p.m., ages 10 and under)
Face painting, balloons, henna art and other entertainment for children (Saturday, 1-5 p.m.)
Games and prizes!
Fantastic scenes of the macabre at adult event (Fri. / Sat. 6-10 PM)
Live music, magician, and other entertainment.

More details about the haunted house are available at http://www.BFHauntedHouse.com.
Haunted House
The Bradley Farm Haunted House will host guided tours on Friday, Oct. 28 and Saturday, Oct. 29 from 6-10 p.m., with a kid-friendly version for young children from 1-5 p.m. on Saturday. Entry costs $5. The Haunted House is located at 13159 New Parkland Drive, Herndon, and is open rain or shine. For more information, e-mail info@bfhauntedhouse.com or visit www.BFHauntedHouse.com.