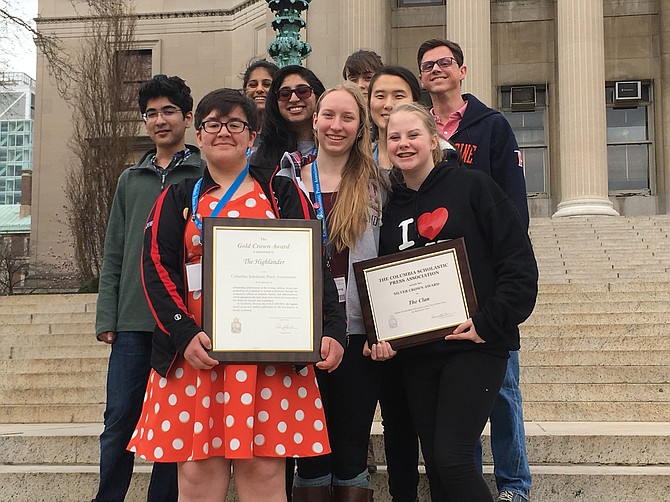 McLean High School's "The Highlander" was named a national Crown Award finalist by the Columbia Scholastic Press Association (CSPA) -- one of the highest honors in scholastic journalism across the country for overall excellence.
"Members of the newsmagazine staff and I are all very excited about this award," said Lindsay Benedict, who teaches journalism and broadcast journalism at McLean High School. "To be in the running for a Gold or Silver Crown this year shows that my students are continuing to push their limits in terms of design and writing, as well as reporting on issues readers care about."
THE ANNOUNCEMENT means that "The Highlander" has already been awarded either a Gold or Silver Crown from CSPA and they will find out which one they earned at the CSPA Convention this coming Spring in New York City. The school received Silver Crowns in 2008 and 2003, and a Gold Crown in March 2016. Some 1,190 publications were entered this year, including yearbooks, newspapers/news magazines and literary magazines. Last year, of the 1,186 publications that were judged, "The Highlander" was one of 76 Gold Crown recipients, and of those, it was one of 16 magazines.
According to the CSPA website: "Crown Awards are the highest recognition given by the CSPA to a student print or digital medium for overall excellence... They consider all aspects of value to the reader or viewer: content, design or presentation, coverage, photography as well as writing and editing."
"My students don't put as much effort as they do into the newsmagazine just for the awards they might win—they do it because they genuinely care about creating a high quality publication that will inform and entertain their readers, said Benedict. "The most rewarding part of the process for the staff is seeing students and teachers throughout the school discussing and enjoying their work when a new issue comes out."
She added: "I am extremely proud of the way my students collaborate to improve each other's work. We consider the journalism staff to be like a family, and like a family, they are always supportive of each other and enthusiastic about working together to publish the best issue they possibly can every time."
LAST YEAR'S EDITORS-IN-CHIEF were Jake Barnett, Ashwin Dasgupta, Melanie Pincus and Liam Zeya. While three graduated in June, Pincus is continuing on as one of the three editors-in-chief this year. Carlyn Kranking and Ingrid Morse are the other two current editors-in-chief.
John Corvari, who won for his sports story in The Highlander, was one of the sports editors last year. He graduated in June and wrote a story about students who repeat one or more years of high school in order to gain an advantage in sports. Corvari is one of 10 finalists in the National Scholastic Press Association (NSPA) Sports Story of the Year competition—that means he wrote one of the top 10 sports articles in the entire country. His article also received first place in the category of Sports News in the Virginia High School League's Multimedia Contest. Maggie Laird also won for her sports action photo in The Clan yearbook at McLean High.
Last March, several Highlander staff members along with Benedict attended the CSPA spring convention on the Columbia University campus to receive their Crown Award at the closing awards ceremony, as well as to attend scholastic journalism training sessions and workshops. This year, they are planning to attend the NSPA spring convention in Seattle instead, so Benedict is not certain that they will attend the CSPA convention as well.