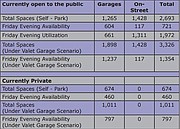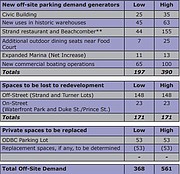 "We need a plan in place first before we determine whether or not people get on-street parking or not." — Councilman Paul Smedberg
When it comes to parking, not all residents of Alexandria are equal. As development continues to spread through Old Town Alexandria, several recent projects have been approved with a restriction on new residents having access to on-street parking.
Robinson Terminals North and South, as well as the Edens project at 530 First Street, were all approved on conditions that the residents of the new buildings not be granted on-street parking permits because the sites had sufficient off-street parking. At a Nov. 12 meeting, the Development Special Use Permit for Ramsey Homes was approved with a condition that would keep residents from parking on the street.
The bans for on-street parking is not part of any policy for the neighborhood or long-term plan for the city. Each site's parking status is reviewed individually. For some on the City Council, the condition is the latest in what seems to be an unnerving trend. Councilman Paul Smedberg raised the issue at the Nov. 12 City Council meeting.
"This is backwards," said Smedberg. "We need a plan in place first before we determine whether or not people get on-street parking or not. We've talked about this for years. It is not equitable, it is not fair, and until we have a policy in place I do not think we should be making these one-off determinations. I just don't. It's not right. Here we are again making another one-off."
According to Carrie Sanders, deputy director for Transportation and Transit, the trend towards removing on-street parking privileges from new developments is rooted in the city's outdated parking code. Apartment complexes are considered commercial properties, not residential ones. While the residential parking requirements were updated over a year ago, much of the city's parking ordinances for commercial properties linger from the 1960s.
"The commercial requirements have not been updated since then," said Sanders. "The city is going to need to undertake that. When developers come in, they're not needing a parking reduction on the residential side, it's the commercial one that's outdated."
Sanders said the transportation trends since the 1960s have shown a decrease in single-occupancy vehicle travel for commercial properties.
"We recognize there's a need for parking, but we're also accounting for trends and transportation occurring over time with development. The current regulations for commercial properties also make no distinction between Old Town or somewhere [like the West End] where you need to be in a car."
Sanders pointed to the Harris Teeter development one block away from the Edens site. Even with a parking reduction, the garage that serves the building is only ever 60 percent occupied. While street parking is hotly contested, off-street parking remains underutilized. While the North Old Town Small Area Plan is still in development, the Alexandria Waterfront Small Area Plan from 2012 analyzed similar parking issues.
"Although parking in the Old Town area is often perceived to be limited with a demand beyond its capacity, the study concludes that issues with Old Town parking relate to proximity, rate, and availability and not to overall capacity," said the Alexandria Waterfront Small Area Plan. "A significant finding of the study relates to the excess capacity in many garages in Old Town, even at peak times. Thus the study's parking management recommendations include serious suggestions for better utilization of garages as a key to improving parking availability now and in the future."
Even at peak utilization on Friday evenings, 604 of Old Town's 1,265 parking garage spaces were left unoccupied. Removing on-street parking for residents of new commercial developments is part of the city's effort to fill those garage spaces.
Tom Soapes, president of the North Old Town Independent Citizens Association, said the excess of off-street parking makes on-street parking for residents of new developments redundant.
"There is no overflow for older properties, that's why we have those on-street parking stickers," said Soapes. "But the newer buildings can plan for that."
According to Smedberg, the city will be bringing on a parking/traffic coordinator position and beginning a work plan on the parking issue in early 2017, but projects like the redevelopment of Ramsey Homes are having their parking issues decided before a policy is put into place.
"We haven't addressed overall consistency in developing overall parking policy, particularly in areas with potential for a lot of redevelopment," said Smedberg. "We've had proposals come forward and we're making policies excluding people from having parking stickers without having an overall policy yet. I know retroactively we can provide stickers if that's where the policy ends up. But for me, I'm increasingly uncomfortable making one-off decisions until we have an overall policy."
Smedberg noted that other properties in the area that have underground parking also have on-street parking stickers as well.
"If we're having different policies for taxpayers, that has to be clearly stated and laid out in an overall policy," said Smedberg. "We can't be doing it [like this]."