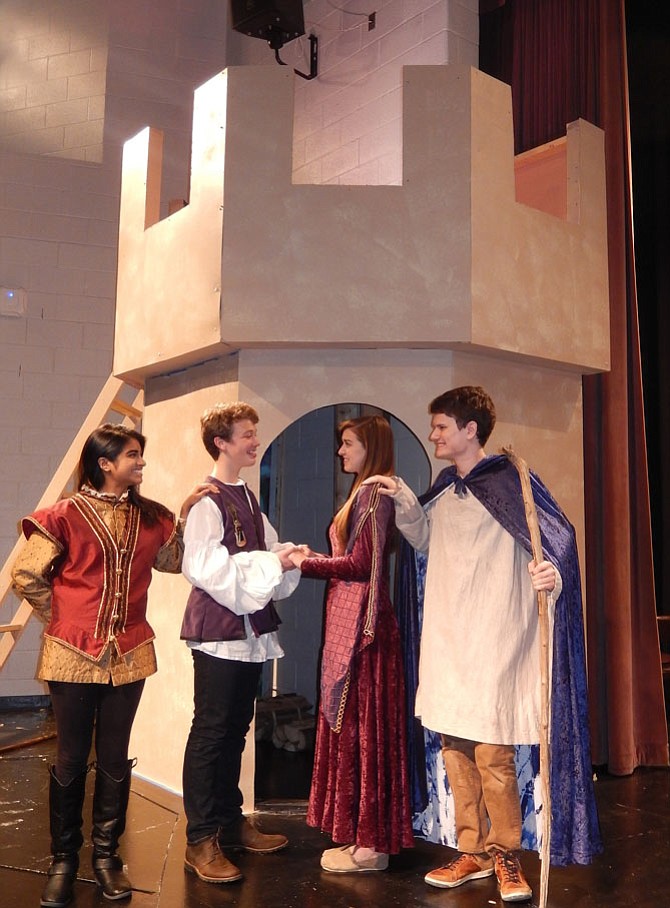 Filled with fantasy, romance and adventure, "The Tempest" is Westfield High's upcoming play. With a cast and crew of nearly 40, this Shakespeare comedy takes the stage Nov. 18-20.
Set on a desert island, the story follows Prospero, the former Duke of Milan, as he tries to reclaim his crown from his brother, Antonio. He summons a dangerous storm to attract Antonio and his accomplice, King Alonso, to the island. But things get tricky when Prospero discovers his daughter Miranda plans to marry Alonso's son, Ferdinand.
"We have a lot of talented students from all grades and levels of experience," said Director Rachel Harrington. "And they bring a new twist and energy to Shakespeare and really make this show appealing to all ages."
The scenes take place on the island, on a ship, in a villain's hideout and at Prospero's castle on the island. "We spent 20 hours just building the ship," said Harrington. "Parents and students worked many weekends to make it come together."
The costumes are loosely based on the 1600s; so, for example, there'll be fairies in colorful, avant garde, sparkly outfits representing the elements. Through their costumes, everyone in the show will illustrate on element (earth, air, water, fire) of the island.
"The audience will enjoy the show's magic and seeing new creatures that the island holds, plus the relationship between families, lovers and friends," said Harrington. "And the play's technical aesthetics are eye-catching and intricate and sure to attract and hold people's attention, as will the story."
Senior Aubrey Cervarich portrays young teenager Miranda, Prospero's daughter. Her father raised her after her mother died, and they were exiled to an island when she was just 3. She's independent and headstrong, but has never experienced the world or other people. So when he creates a storm and shipwrecks a ship full of nobles on the island, including Ferdinand, it's amazing to her.
"Seeing Ferdinand, she instantly falls in love with him," said Cervarich. "She's also awestruck at finding love. Everything's new to her; it's a wonderful experience and she wants it all. I've never done Shakespeare before, so it's cool to branch off into something I'm not used to. And it's the first time I've played a young, naïve character."
Cervarich said the audience will like the parallels between "The Tempest" and Disney's "The Little Mermaid." And, she said, "This show is extremely funny, with slapstick, physical humor. And everyone likes to see a story about young love."
Playing Prospero is senior John Coughlin. "He's a very old, wise wizard who rules the island," said Coughlin. "He's compassionate toward his daughter, but mean and angry when he needs to be toward his slaves and helpers. He forgets how to be a person and thinks everyone else is lower than him and not human. He's been on the island 12 years and is used to dealing with spirits and beasts."
It's a fun role to play, said Coughlin, because "I get to tap into different emotions from kindness to hatred. And I get to speak in Old English and figure out my character's motivations and the meaning behind his words."
As for the show, he said, "The acting's well-done and the audience will feel like they're on the island and will really feel for the characters and what they've been through. It's a different kind of theater experience because it brings out emotions in the actors that even we didn't know were there."
Freshman John Henry Stamper portrays Ferdinand. "He's a little naïve and falls in love with Miranda," said Stamper. "He's willing to stand up for himself against Prospero and for the people that he likes. He's loving, caring, willing to help, strong and truthful."
Also enjoying his part, Stamper said, "In some aspects, I get to be myself and be playful. And I can relate to him as an easygoing, young guy. I'm thankful to be cast in this show as a freshman, let alone in a lead role."
He said the audience will find many reasons to like this play. "The set is absolutely amazing, and people will like the physicality of the characters," said Stamper. "We really get into these roles; and since we're all friends, there's no awkwardness between Aubrey and me, so our relationship is more believable to the audience."
Playing King Alonso of Naples is senior Maya Hossain. "He's gotten shipwrecked with his crew," she said. "He was originally a little devious, but the whole show is a journey of his repentance. So although it's a comedy, every line he says is tragic, to a degree. He's trying to lead his men to safety, while looking for his son, Ferdinand."
She said it's challenging playing a male character because "I have to take on a manly gait and make more stiff and rigid gestures than females do. Three girls are playing men, and we spent a whole day just on our walks. I also have to take the lightness out of my voice and speak in a heavier tone. But it's fun playing a guy and a leader and interpreting Shakespeare however I want. I also convey my character's descent into madness, and it's so much fun doing things you don't get to do in real life."
Overall, said Hossain, "The audience will love the mystical, dreamlike quality of this show. It's a fantasy that'll take them out of their everyday world — there are fairies, swamp monsters and magical spells — and they'll really get caught up in all of it."
To Go
Show times are Friday-Saturday, Nov. 18-19, at 7:30 p.m., and Sunday, Nov. 20, at 2 p.m. in the school theater. Seating is reserved. Tickets are $12 at the door, $10 for students, or $10 in advance via www.westfieldtheatreboosters.com.