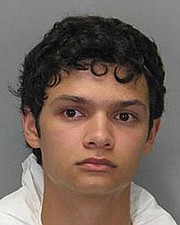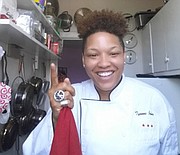 Chantilly — On the surface, an argument over folding chairs after an Aug. 6 wedding at Cabell's Mill in Ellanor C. Lawrence Park led a woman's fatal stabbing and a man charged with murder. But according to a witness and a video of the seven minutes leading up to the tragedy, tensions between the man and the wedding party had been simmering all during the event.
Monday afternoon, in Fairfax County General District Court, defense attorney Peter Greenspun argued that his client, Kempton Bonds, had no malice toward Tyonne Johns, the woman he allegedly stabbed to death. If anything, said Greenspun, the crowd there was verbally abusing and threatening Bonds. But ultimately, the judge found probable cause to believe Bonds is guilty as charged and certified his case to the grand jury.
Johns, 35, of Washington, D.C., was the event's chef and caterer. Bonds, a 19-year-old Clifton resident, is a 2015 Robinson Secondary School graduate and was a seasonal employee of the county Park Authority. Police had already responded to the Chantilly park around 9:24 p.m., after Bonds reported the wedding guests' disorderly conduct. But the next call they received, about 10:50 p.m., was about the stabbing.
The chairs for the wedding were supplied by both Chef Tyonne Catering Co., owned by the victim, and the Park Authority. Witnesses said Johns was starting to pack up the folding chairs, but Bonds told her the chairs belonged to the park, and the two began to argue.
Johns's assistant, Shaina Mason, testified Oct. 31 that "There was a conversation about the chairs and the bride was upset and yelling." She said that after Johns asked Bonds why he was upsetting the bride, Johns "yelled at him and he stabbed her and she stepped away and said, 'You stabbed me!' Mason said she didn't see the actual stabbing, but saw Johns back away from Bonds, "who had a knife in his hand." She also said Johns never touched him.
Mason then called 911. After that, she said, crying, "Someone put [Johns] in a chair, and [Bonds] went down the steps on the side of the building."
Under Greenspun's cross examination, Mason said that during the event, guests were upset with Bonds turning off the music and taking down the decorations. She said for 10 to 20 minutes, people were yelling and cursing at him. She also said that Bonds didn't curse, scream or threaten anyone, but "he was rude."
During the seven minutes or so before the stabbing, Bonds videotaped on his phone what the others were saying and doing, and Greenspun played that tape in court. In it, the bride yells at Bonds, "Boy, I'm about to f*#k you up, I swear to God, on my wedding day."
Then the groom yells at Bonds, "I guarantee, you'll be fired; you ruined my whole wedding." He and another woman also call Bonds derogatory names, and a female tells him, "I'm going to knock you out."
Next is the stabbing, and Bonds says, "Stay away from me." Mason said she couldn't tell one voice from another on the tape and was in the driver's seat of a U-Haul during the altercation. However, Greenspun got her to admit that, when she heard a voice threaten to "f*#k [Bonds] up," Johns was "within arm's reach" of him.
"It wasn't Bonds who was acting out of control, with malice, it was the group," said Greenspun.
County police officer Jason Reichel was the first officer responding to the stabbing. "There were people running and screaming, all over the place," he said. Reichel said they told him their friend had been stabbed and they pointed out Bonds as the culprit, so Reichel handcuffed him.
The officer then found Johns slumped over in a chair. "I tore her shirt and saw a wound underneath her left breast," he said. "I applied pressure to her wound and supported her head to protect her airway." When more officers arrived, he directed them to take custody of Bonds and he returned to the victim. "The only thing she said to me was, 'I can't breathe,'" said Reichel. Then an ambulance came and rushed Johns to a hospital, where she was pronounced dead.
Also testifying was Officer Jason Deal, who arrived at the scene to find Bonds on his knees, in handcuffs. "Officer Reichel said it appeared he'd stabbed someone, and Bonds said, 'Yes, that's correct; that was me.' I found a folding pocket knife on him – about 4 inches, folded up." He then took Bonds to the Adult Detention Center, where he was arrested and charged with second-degree murder.
Summing up, Greenspun said, "This is clearly a tragic situation, but there's no evidence of malice. There was a blistering, ugly, aggressive, assertive assault by numerous people there. But [Bonds] didn't invite or provoke this horrible, verbal assault. It was the vitriol, hate and aggression of the words – and Johns gets in his face, as he's backing up to the railing, and yells at him. If it's anything, it's manslaughter, not murder."
But Assistant Commonwealth's Attorney Brandon Shapiro stressed that Bonds "had a knife in his pocket – a deadly weapon. He had the ability to leave and didn't. There was no physical altercation; at no point was Bonds touched. There's probable cause for second-degree murder."
Agreeing, Judge Michael Lindner said, "Words can be very hurtful, [but] the defendant's responses to the anger were not words of peace. There was a knife inside someone's body. There's a fair probability that Mr. Bonds killed somebody in malice."
Lindner then certified the case to the grand jury for possible indictment. He also continued Bonds's bond of $250,000 plus house arrest.