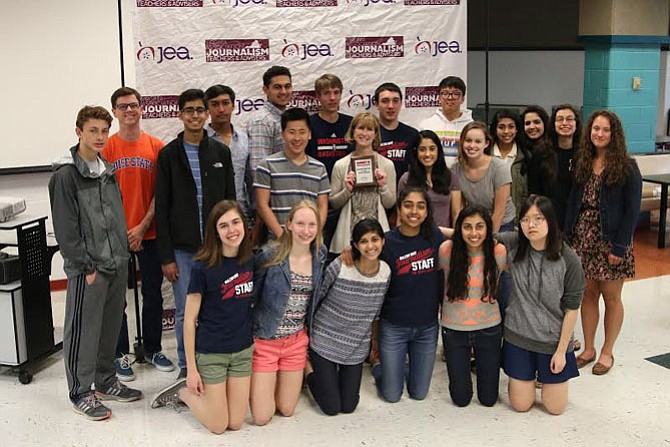 Two publications at McLean High School were recently recognized, due to outstanding student work, in this this year's Virginia Association of Journalism Teacher and Advisers (VAJTA) competition and several other competitions.
McLean High School's yearbook, "The Clan," edited by Sajanee Chithrahjan, Habiba Feroze, Bianca Rossell and Yande Thiaw, won first place in the yearbook Best of Show competition for VAJTA, was a finalist in the 2016 Pacemaker award, presented by the National Scholastic Press Association, and received a Silver Yearbook Crown from the Columbia Scholastic Press Association.
Among the first things that students learn is photography and how to conduct interviews. "I try to push my students to realize that the story depends on the way you tell it. Sometimes we have a story that really demands a longer form narrative," said Meghan Percival, who has been the yearbook advisor at McLean for 17 years. The yearbook staff comprises 60 students.
"I was the editor-in-chief of my yearbook, and when there was an opening in my second year at McLean they asked if I was interested and I definitely was," said Percival.
The second McLean High School publication that received recognition is their newsmagazine, "The Highlander," which also received a Pacemaker award, making McLean one of only 12 high schools in the country to have both their yearbook and newspaper listed on the Pacemaker list run by the National Scholastic Press Association. The newsmagazine also received a Gold Magazine Crown from the Columbia Scholastic Press Association.
"We have been really fortunate to have always had great support here at McLean," said Lindsay Benedict, adviser to the newsmagazine at McLean. Not only has there been support from parents and the student body, but also the administration. "Some think that it's the principal that dictates what we write about, but it's the complete opposite," she said.
McLean High School principal Ellen Reilly was named the VAJTA Administrator of the Year for her support of McLean student journalists. She was cited for going on the record about sensitive topics, making time to meet regularly with editors of McLean media programs, and supporting a live daily news broadcast.
Students had a chance to compete for individual awards at the VAJTA write-off competition, where they are given an hour to write, onsite, using provided facts and quotes. After looking at other several sources, students use what they think they'll need to write an opinion or feature article.
"The purpose of the speed-writing is to simulate the under-deadline experience. I think it's great because the students learn a lot about their own abilities. It also raises my expectations as an advisor," said Benedict.
In the VAJTA write-off competition, McLean High School student winners were Lama Al Rajih, first place for broadcast; Sania Shahid, second place for caption writing; Ashwin Dasgupta, first place for editorial writing; Liam Zeya, first place for feature writing; Bryan Chung, first place for infographics; Siddarth Shankar, second place for newswriting; Melanie Pincus, third place for newswriting; Samantha Taherian, honorable mention for photography; John Corvari, first place for sports writing; and, Haru Kato, second place for sports writing.

"I think it's awesome that we've won these awards but I don't think that's the motivation for doing good journalism," said Benedict. "A few years ago I had an editor-in-chief, Cameron Menchel, who said 'our best issue is always ahead of us.' That mindset has been passed down from journalist to journalist."