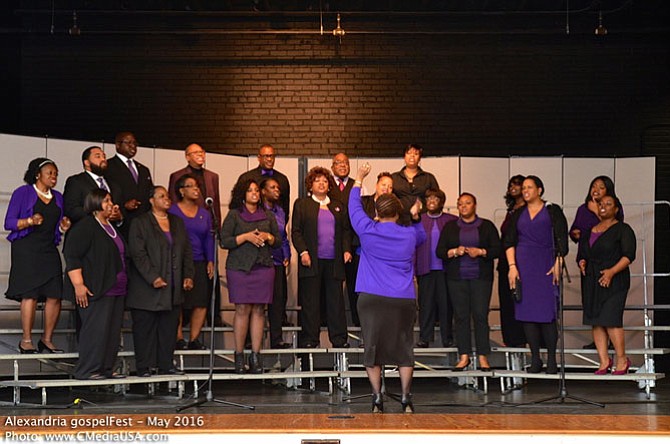 Alexandria inaugurated a two-day gospel fest on May 20-21 at the Dr. Oswald Durant Memorial Center on Cameron Street. Alexandria-gospelFEST showcased Alexandria's heritage of gospel music.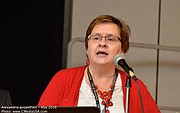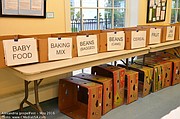 Friday's lineup demonstrated a variety of gospel music styles, including spirituals, contemporary and traditional choral. Songs like "I Love the Lord," a Whitney Houston favorite, offered insights on how gospel music influenced music icons of today.
Invited choirs included City of Alexandria Employee Choir, First Agape Community of Faith Church, Jefferson Houston Elementary School, George Washington Middle School, My Father's House Christian Church, St. Joseph Catholic Church, Alfred Street Baptist Church's Voices of Triumph, Shiloh Baptist Church and Third Baptist Church.
"Alexandria-gospelFEST" was a callout to end hunger. Former Mayor William D. Euille, master of ceremonies, said one in five people in Alexandria struggle to put food on the table.
Volunteers and audience members, despite the rain, sang, clapped hands, stomped feet and called out in response. "We are happy to volunteer," said Friday's greeter Emma Varner of Alfred Street Baptist Church, "there is so much a need." Children are disproportionately affected by food hardship.
The Alexandria – gospelFEST is a collaborative project of the Office of the Arts, a division of the Alexandria Department of Recreation, Parks and Cultural Activities. It partnered with ALIVE! and Hunger Free Alexandria to collect canned food goods and donations. "Alexandria-gospelFEST is designed to bring awareness to Alexandria's hungry and to highlight the gospel music genre," said Cheryl Anne Colton, regional program director, Office of the Arts, Alexandria Department of Recreation, Parks and Cultural Activities.
Other participants included Anne Smith, author of "Good News: Innovators and Originators of Gospel Music," Metamorphosis Art and Enrichment Center, Upcycle Creative Reuse Center and Washington Balalaika Society.
Next year's event is already scheduled for Friday, May 19 to Saturday, May 20, 2017.