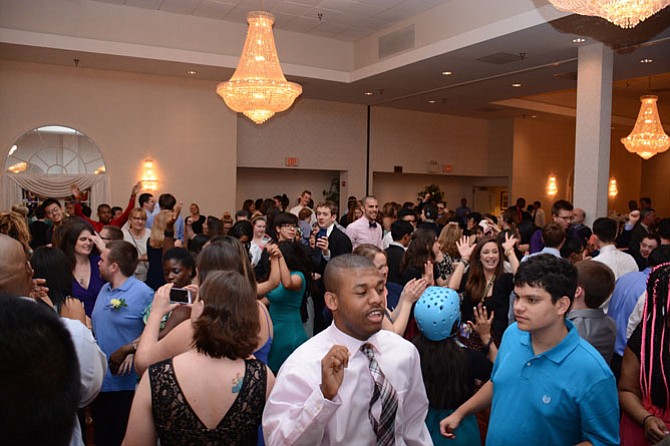 Photo Gallery
Day Prom 2016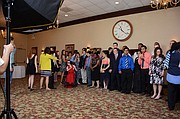 Click Photo for Flash
Students' bodies bounced, swayed and spun on the dance floor while the Black-Eyed Peas' "I Gotta Feeling" blared from towering speakers. In another room, glamorous girls and boutonniered boys waited in line to pose for a professional photographer. It was a prom.
May 12 marked the 15th year of the Day Prom, a fancy affair organized specifically for Fairfax County students with physical and intellectual disabilities at the Waterford Receptions venue at Fair Oaks.
Chris Pascarella is an Employee Transition Representative at Robinson Secondary School. She and Ann Albosta came up with the idea for the daytime soiree when both were teaching at Herndon High School together.
Pascarella was in the program for students with special needs at Herndon. "We thought, 'These kids are never going to go to their own prom,'" she said.
The first year, the two teachers got together students from Centreville, Herndon, South Lakes and Westfield High Schools, along with general education buddies who helped fill out the social experience.
The idea was to recreate a high school prom so students receiving special services could enjoy the same seminal dance environment as their peers. Throwing one just for them removes much of the pressure of fitting in; at the Day Prom, they're all the kings and queens.
"These kids love it so much," said Albosta, who now lives in Wilmington, Del. "It's the biggest social experience they're going to have in high school."
The alternative prom grew in popularity each year, so much that they had to split into two separate events for 2016. The first prom was held May 3 with students from Fairfax, Falls Church, Robinson, Marshall, West Springfield and Robert E. Lee high schools. On May 12, the Waterford hosted Centreville, Herndon, Lake Braddock, McLean, South Lakes, Westfield, Woodson, Oakton, Chantilly and J.E.B. Stuart high schools, and the Key Center School.
On the second day alone, there were 210 students plus staff and buddies -- 413 in total attendance for the prom.
Some students may go on to graduate after the prom, others return year after year, becoming friends.
"It's really fantastic, a good time to meet old friends," said Hassan Ayoobi, an instructional assistant at Lake Braddock Secondary School who was chaperoning at the dance for the first time. "They need something fun, and they're getting ready for the future."
Lake Braddock Principal Dave Thomas has been to a few more Day Proms than Ayoobi.
"It's about inclusiveness and getting that high school experience," Thomas said. "It's a celebration of the work they do in the classroom."
Scott Brown used to teach Adaptive Physical Education at South Lakes High School and now teaches Physical Education and Driver's Education.
"The kids get a chance to get dressed up, they feel like it's their prom," Brown said. "It's about having a good time, all about the community."
On the dance floor, McLean senior Maya Lezzam bobs and rocks with her buddy, fellow senior Adonis Friend, dressed to the nines in a crisp classic tuxedo.
At the Day Prom, she said, "He's able to come out of his shell. You see his personality, he's so much fun."