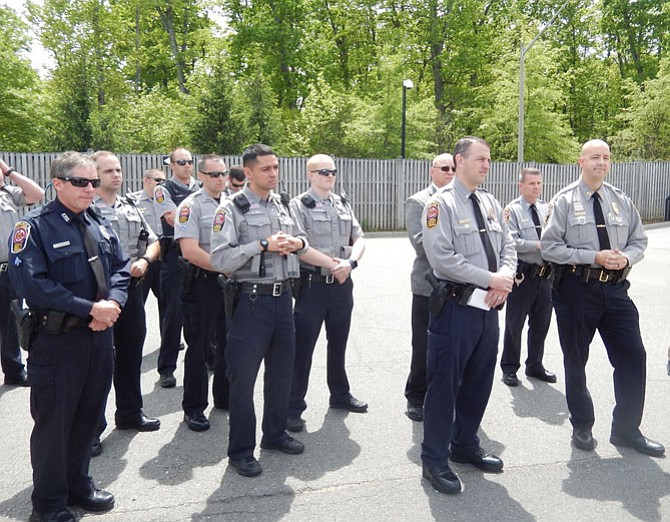 May 8, 2006 is a date seared into the hearts and minds of everyone who remembers the tragic events that happened that day at the Sully District Police Station. It was when a heavily armed teen took the lives of two police officers — Det. Vicky Armel, 40, and MPO Mike Garbarino, 53.
And Sunday afternoon — 10 years to the day afterward — their community, colleagues, friends and families gathered in front of the station to honor them. They shared remembrances and dedicated a new, public memorial — created and donated by Merrifield Garden Center — in their names.
"On the 10th anniversary, we wanted to refresh our memorial," said Capt. Bob Blakley, the station commander. "We chose one large, blue vase symbolizing the thin, blue line — the police — and our larger, public-safety family, overflowing with love and joy. We dedicate it to Mike and Vicky and as a reminder of our long-lasting relationship with our public-safety family."
The nightmare 10 years ago began around 3:40 p.m. on a Monday, when the shooter, Michael Kennedy, carjacked a van and drove into the police station's rear lot. Unarmed, Garbarino was tending to things inside his cruiser there before leaving on vacation. Standing a few yards away, Kennedy fired more than 20 rounds at him with an AK-47-type rifle.
Garbarino was struck five times. Yet although gravely wounded and in pain, the 23-year police veteran alerted other officers to the danger via his cruiser's radio. He provided suspect information, told the police helicopter where to land and warned other officers to approach from the front of the building so they wouldn't walk right into harm's way
He also prayed to God and told his fellow officers, "I'm not going to die here." And indeed, Garbarino held on in the hospital for nine more days, but succumbed to his injuries May 17, 2006.
Armel had gone outside to respond to the carjacking and, when she reached her cruiser, Kennedy — armed with five handguns, an assault weapon and a high-powered rifle — arrived and began shooting at Garbarino. Armel made her presence known to Kennedy to draw fire away from Garbarino.
She and Kennedy exchanged gunfire, and a bullet from his 30-06 rifle pierced her ballistic vest and struck her in the chest. She made it back inside her cruiser, but was struck again in the legs. And even though mortally wounded, she still shot four more rounds, trying to stop the assailant. Meanwhile, other officers responded and Kennedy, 18, was killed in a shootout.
Both Armel and Garbarino left spouses, two children each, devastated colleagues and a grieving community. A year later, the Fairfax County Police Department awarded the officers Gold Medals of Valor, posthumously.
The Police Department narrative nominating Garbarino stated, "His actions will live on forever in the hearts, minds and souls of the officers and police department he loved. His truly unselfish final acts demonstrated his faith, care for fellow officers and his extreme dedication and professionalism."
In Armel's nominating narrative, police wrote, "Det. Armel showed remarkable bravery, courage and willingness to help her fellow officers at great risk to her life. She made the ultimate sacrifice and undoubtedly saved others as a result. Armel died as a warrior. Her final acts were a demonstration of her life and faith."
During Sunday's remembrance ceremony, Blakley acknowledged the dignitaries attending, including county Board of Supervisors Chairman Sharon Bulova, past and current Sully District Supervisors Michael Frey and Kathy Smith, Mason District Supervisor Penny Gross and Deputy County Executive for Public Safety David Rohrer. He also recognized Garbarino's wife and daughters, plus Armel's mother and sister, and thanked the police officers there from other stations "who are standing shoulder to shoulder with us today."
Chaplain Jim Heppler then addressed the crowd. "We're blessed to have had time to spend with our fallen officers we're here for today," he said. "Both were dedicated members of our community and good friends. We are grateful their love was able to touch so many people … and we share with their loved ones the great pain of their deaths."
He said Garbarino and Armel shared a belief in eternal life. "The souls of the just are in the hands of God and they shall know eternal peace," said Heppler. "And the citizens of Fairfax County will keep alive the memory of Vicky Armel and Mike Garbarino."
Also taking the podium was Rohrer, who was the county's police chief at the time of the tragedy. "Today, on Mother's Day, we honor all the mothers, including Vicky's mother, and Mike's wife, Sue," he said. "We also remember May 8, 2006, and the loss of Vicky that day, and the loss of Mike on May 17. I don't need notes; these dates are burned in my soul."
"I also remember May 13 and May 20, [2006] — the [funeral] services we had — and the strength, grace and resolve of the men and women who serve the community, as well as that of the families and the children, especially," continued Rohrer. "That gave me such faith in the community. And I also think of the candlelight vigils we had here, done by the community, the police cruisers covered with flowers and the officers who were embraced by the community."
He said it showed the police that they're "respected, loved and cared for," and illustrated "the bond that was here in 2006." Then, quoting a poem by Emily Dickinson, Rohrer said, "Hope is the thing with feathers that perches in the soul and sings the tune without the words and never stops at all."
Similarly, he said, Armel's sons and Garbarino's daughters "have shown us strength in adversity and how to grow from it. We have never forgotten them and never will forget. And to the Board of Supervisors and the community, thank you for your ongoing support. We are truly blessed with you and with the police men and women who serve our community. We will never forget Vicky and Mike, and the best way to honor them is to re-dedicate yourselves to being the best police officers possible."
Also speaking was county police Lt. Col. Tom Ryan, there on behalf of Chief Ed Roessler, who was unable to attend the ceremony. "Ten years ago today, the lives of so many of us were changed in a moment," said Ryan. "And that day, Officers Garbarino and Armel gave their last, full measure of devotion to serving others."
"Where do such honorable men and women come from?" he asked. "Badly wounded and in need of help, Mike thought of others, pleading with the dispatcher to keep his fellow officers away. And alone in a parking lot, Vicky knew she was outmatched, but she drew the fire of the shooter to protect others.
"As we gather here today, we're honoring Mike and Vicky by re-dedicating ourselves to the protection of the community. Our deepest condolences go to Vicky's husband Tyler and sons, Thomas and Mason, her mother Betty and her sister. And the same to Mike's wife Sue and daughters Katie and Natalie. You will always be part of our family."
The ceremony ended with a moment of silence for Armel and Garbarino, followed by a reception inside the station. There, Sue Garbarino said she couldn't believe it's been 10 years and that she and her family are doing well. She's engaged to a pilot, Katie's been married almost a year and Natalie will soon start her junior year at college, studying elementary education.
"I still have huge support from the public-safety community," said Sue Garbarino. "And I'm volunteering with the Virginia Public Safety Foundation. I did a segment for their website about being a survivor and raised funds for building a wall for all of Virginia's fallen first responders. It's in Richmond, by the capitol, and went up in December 2014."
She was also pleased with Sunday's ceremony. "My husband said, if anything ever happened to him in the line of duty, to make sure they never forget him and that [the police] learn from the actions so they can never be repeated," she said. "They haven't forgotten, and that's helped a lot with our healing, the total support and love we've had from the Police Department. So we've had a lot of blessings from such a terrible tragedy."