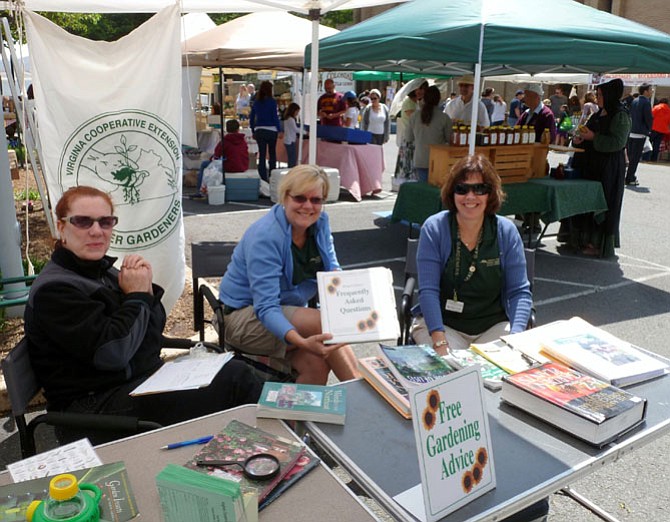 We always enjoy the coming of spring in Reston. The woods are greening, the birds are singing and the pathways are again filled with people. One of our special delights is being asked as we walk, "when is the farmers market opening?" Fran and I start to hear this query as we're walking Angus, our Scottish terrier, long about February and the anticipation builds from then on.
Of course, the Reston Farmers Market at Lake Anne sells only locally grown fruits and vegetables and, even with the advent of hoop houses, there is little available until about the beginning of May. So, now I am proud to announce that the Reston Farmers Market, sponsored by your friendly Fairfax County Park Authority, will open its 19th season this very Saturday, May 7 at 8 a.m. And, weather permitting, we'll be open every Saturday, 8 a.m. till noon, except Sept. 24.
You will recognize most of the small growers and producers who were with us last year and a lot who've been with us for many years and have made the Market Number One in Northern Virginia. To be precise, 29 of 30 vendors are returning. In addition, we have two newcomers—Misty Meadow Farm Creamery and Kiwi Kuisine. Misty Meadow, from Smithburg, Md. features fresh whole Creamline milk, the closest thing to milk straight from the cow. No more 1 or 2 percent homogenized milk products for me! And, Kiwi Kuisine brings a nice variety of tasty meat pies to the Market.

Of course, the mainstays of any good farmers market are the folks who bring you the freshest local fruits and vegetables. It is certainly true at the Reston Farmers Market. We feature 13 of the very best fruit and vegetable farmers, including two certified organics—The Farm at Sunnyside and Jerry's Berries.
Over the years, the Market has diversified to include: four meat producers, one Virginia fishing family, four fine bakers, one beekeeper/honey producer, four dairy producers (cheeses, milk and ice cream), two plant and flower growers, and four value-added food makers. For detailed information on who they all are, and what and how they produce the goods they bring to Market, I suggest you go to: www.restonfarmersmarket.com. And if you don't see a locally growable food you would like to have in the Market, please tell co-market manager Fran or John, and we'll see if we can bring it in!

In addition, the Reston Farmers Market hosts two special community services of which we are especially proud. The Supplemental Nutrition Assistance Program (SNAP) managed by CORNERSTONES provides tokens to eligible low-income residents for purchases of fresh fruits and vegetables in the Market, and resident Fairfax Master Gardeners in another booth provide expert advice to help market shoppers solve problems with their own plants and gardens. See you at the Market.