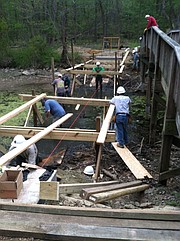 Walkers, bikers, hikers, birdwatchers — and all who love the C&O Canal Towpath — will appreciate the new bridge over the canal at Marsden Tract near the intersection of MacArthur and Brickyard roads. The bridge was constructed and installed by C&O Canal Trust and C&O Canal National Park staff along with skilled volunteers for four days from Thursday, April 21 through Sunday, April 24.
The bridge arrived in pieces and was assembled in place. The current bridge had fallen into disrepair, with plywood covering multiple sections of the walking surface. The new bridge was constructed beside the old one, so towpath access was not affected over the weekend.
The Marsden Tract Bridge was funded by donors to the C&O Canal Trust's Towpath Forever program, with a funding match from the National Park Service Centennial Challenge Program. It is the first project to take place in the park in honor of the National Park Service's 100th anniversary.
In 2015, the National Park Service received a $10 million congressional appropriation that was matched with $15.9 million from more than 90 partner organizations. The 106 projects, located at more than 100 parks in 31 states and the District of Columbia, are designed to improve visitor services, support outreach to new audiences, and leverage partnerships to reinvigorate national parks while forging connections with communities.