Selected as a finalist in the Miss Teen 2016 pageant, Centreville High senior Shaylan Ferguson participated in early April in Southern Virginia. And while she didn't win, she enjoyed the experience, learned a few things along the way and plans to keep on competing.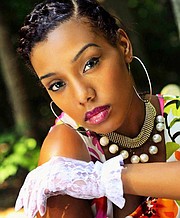 In school, she maintains A/B grades and has been accepted to VSU, beginning this fall. "I plan on majoring in accounting and minoring in marketing," she said. "My hope for the future is to use my marketing skills in the entertainment world."

The past two years, Ferguson has become interested in fashion, so fashion marketing is now one of her favorite subjects. She's also played basketball since the first grade and, for the last three years, has played small forward for the Centreville Wildcats.
"I genuinely enjoy being involved in my community and school," she said. "This is my last year and I have decided to focus more on my modeling. I began it two years ago and developed a love for expressing my inner beauty by modeling. Going to college, I needed a way to pay for it, so I wanted something that could help me, but also teach me."
So Ferguson figured that entering the Miss Teen 2016 pageant would lead to success and also link to her modeling. And despite the various activities she does, both in and out of school, she hoped to win the contest and take on additional responsibilities.
Before heading into the competition, Ferguson said, "I feel very confident and excited for this adventure. I had to go through a mini interview and training to get to this point; my next step is the actual pageant. Winning would mean everything to me, a step closer to my dreams. I hope to walk away with many friendships and learning experiences. I plan to give back to my community and help others to achieve their dreams, as well."
Afterward, she said the pageant went really well. "I was nervous at first because, like everyone else, I didn't know what to expect," said Ferguson. "I met with the judges and they were all really sweet. They asked me a few questions and I told them about myself and my hobbies, like modeling. The interview only lasted about one minute, but it was something that I would do again."
"Sadly, I wasn't selected to move on to the next step of the competition, but I loved everything about it," she continued. "I was able to meet with a lot of the other girls and got to network with them and make new friends. Even though I wasn't chosen, it was a life-changing experience. I gained more public-speaking skills and more confidence along the way. I would recommend any girl who wants to make new friends and gain a little more confidence and self-esteem to sign up for the Miss Teen pageant, the next go-'round."
She called the pageant staff "amazing and helpful." About 600 people came to watch the show's production and, for Ferguson, that was the most exciting part. "You basically got to show off your personality to the judges through your walk and outfits," she said. "I plan on doing this again next year; I even plan on running for Miss Virginia State in the fall when I leave for college."