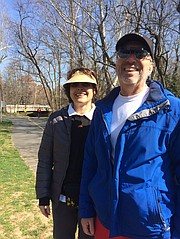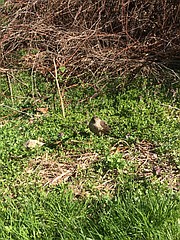 It's been a few months since the Resolve to Run group signed up on a snowy night in January to run the 5K or Ten Miler to benefit Thrive Arlington. The runners came out for the first time on Feb. 6 to run two miles. They started at Bluemont Park off Wilson Boulevard and ran to Falls Church: two miles didn't seem like a big deal. But a month later, when they started running more than five miles, the George Washington Ten Miler race started to loom large for those who haven't run long distances in a long time. It wasn't a quick jog on a Saturday morning anymore. It was a two-hour slog for some.
Some hips and knees began to hurt. One 62-year-old run/walker hurt her knee in an unrelated fall and stopped walking, let alone running. But she is back now. One sextuagenarian who hadn't run more than three miles in years asked Denny Pinch, a trainer at the Army Navy Country Club who leads the Resolve to Run group every Saturday, what to do: she was having problems breaking four miles without hip pain. He looked at her thoughtfully. He asked her where the pain was. Both hips. Was it arthritis? She had already visualized the scar she would have from the hip replacements. She was thinking of switching to the 5K race because, really, why would any sane 60-year-old run 10 miles?
Pinch offered to give the runner an assessment at the gym: maybe he could help. She went down for the assessment and got the verdict. The pain is muscular, he said. Probably not arthritis. She could be helped to use her muscles more efficiently and loosen up the tight hamstrings, quadriceps, Latissimus Dorsi, and other muscles she never knew she had. The pain would probably dissipate within three weeks. She looked at him skeptically. But after two sessions of rolling, she was able to run six miles without limping all the way home.
Interval training was another Pinch technique that helped the team keep running: instead of running nonstop for the whole race, Pinch asked runners to run for three to four minutes, and then walk for one minute, and to do this the whole time so they never got so tired they couldn't recover. He said he used to think this was for sissies but after he ran a faster marathon with this technique, he became a believer.
The biggest motivator of all was the donations: runners set up their websites to ask for donations for Thrive Arlington. When that 10-mile marker seems a long way down the old W&OD railroad path, the thought of that website makes the run worth it. This year, Thrive hopes to raise $16,000 from the team effort.
To donate, look for Arlington Thrive runners to support on www.youcaring.com; search for Thrive Arlington. Pinch is at Army Navy Country Club, fitness center, at 703-521-6800.