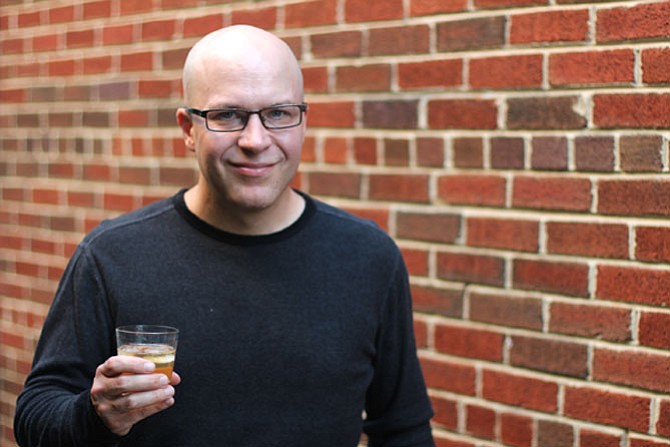 Alexandria resident Jeff Cioletti had more than a decade of writing professionally about a full spectrum of beverages — from Chinese spirits to bottled iced teas to the best sparkling wines in America. As the current editor-at-large of Beverage World, where he's held editorial roles for more than 13 years, he decided a few years ago to chronicle his adventures with these beverages in a 335-page book, "The Year of Drinking Adventurously: 52 Ways to Get out of Your Comfort Zone."
Published by Turner Publishing in November of last year, "The Year of Drinking Adventurously" is laid out so that each of its 52 chapters focuses on a different drink. The tour of beverages also represents a robust taste of what the world has to offer.
"I designed the book by week," he said. "So the way it's structured, there are 52 chapters, and each one is a different week and different drink. It is a plan for readers to experience each drink all within a year. All in all, the goal is really to get people to experience something new. Some of these readers, previous to exploring the book, may default to a small group of regular drinks and don't really go outside that. I wrote this book in part to relay the message that, 'you may not like all of it, and you may not even like most of it, and there's background so that you can be more educated about what you're drinking.'"
Jolene Barto, marketing coordinator of Turner Publishing, said it was a no-brainer to for the company to pursue "The Year of Drinking Adventurously."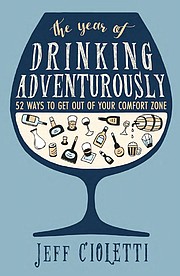 "'The Year of Drinking Adventurously' is meant to get readers out of their 'cocktail comfort zone' and try interesting, delicious, and adventurous new drinks and spirits," Barto said. "Each section of the book is divided as a week to learn more about a certain type of brew, spirit, and other beverage that might not fit into the generic 'gin and cran' and 'vodka tonic' field. The book is truly a unique approach to informing readers about their beverage options, and Jeff was undoubtedly an expert in this field, so it seemed like an excellent title to publish."
Cioletti explained that there is no shortage of libations for people to try in a year's time.
"As far as distilleries go, there are probably about 1,000 in the country now and that number is growing," Cioletti said. "Breweries amount to more than 4,000. My book is more about individual beverages themselves though. I go into a lot of international beverages, including Japanese spirits and stuff from Scandinavia, as well as some homegrown concoctions."
If a reader has a hankering for a unique Japanese sake, Cioletti makes sure most of the drinks are easy enough to find in most places across the U.S.
"I did a fair amount of traveling, including to Japan, the United Kingdom, and even Australia, but I obviously couldn't get anywhere," he said. "So, wherever I could get, I would write about it. But, for other places specializing in certain drinks I wanted to highlight, I would go to a bar that specialized in that kind of thing — whether it was New York, Chicago, LA, and even in the Washington D.C.-area."
Cioletti was able to tap into his previous travel experiences for some of the book as well.
"Belgium, for example, figures prominently in the book, and I've been there a number of times even before I started writing 'The Year of Drinking Adventurously,'" he said. "I had also done a distillery tour of Scotland. Everything else that I wrote about, I drank in the states when I was traveling for work."
While Cioletti has expertise on energy drinks, sodas and other beverage without an age requirement for consumption, "The Year of Drinking Adventurously" focuses on adult beverages.
"The book is all about alcohol," he said. "It's a little bit of wine, though not the usual types like cabernets or merlots," he said. "What I talk about are fortified wines like madeira, ports and sherry. They are off the beaten path kinds of wines. There is also a lot about spirits and special beers — everything from Chinese spirits to fermented beer like Japanese sake. There's a chapter on coffee beers, barrel age beers. Then there are a couple chapters on cider."
And, whether the chapters are on cider or whiskey, Cioletti ensures he features the treats that really are often new to the taste buds.
"I write about what is really intense and funky and things that people aren't used to," Cioletti said. "I tried to keep it interesting and not focus on anything basic. I cover alcohol that runs the whole gamut — and not anything too mainstream."
Cioletti said he is proud that the book isn't just about downing 52 different beverages in a year — it really is about experiencing different tastes of the world without necessarily having to stray too far from your hometown. He said this is especially the case in an area like Alexandria.
"While it's not a travel book, it is arm chair travel," he said. "You don't have to leave your town to have these experiences. While I encourage people to travel, it's my favorite thing to do, and obviously I got a lot of my ideas from traveling, the point of the book is that you don't have to break the bank to have these international experiences, provided that you don't live in the middle of nowhere. Here in Alexandria, you have easy access to most of what's in the book. There are lots of ethnic communities in the greater D.C. area that run liquor stores specialty grocery stores."
Reception for the book nationwide has been more than Cioletti initially expected, and that while there are no explicit plans, he hopes to make an appearance locally on behalf of his book.
"I've gotten a couple of good mentions here and there, and have been featured on good podcasts," he said. "I know a lot of people who are actually following the book week by week and are blogging about it, which has been great. While I did do one signing in Arlington in December, I'm hoping to do some events in Alexandria in May and June."