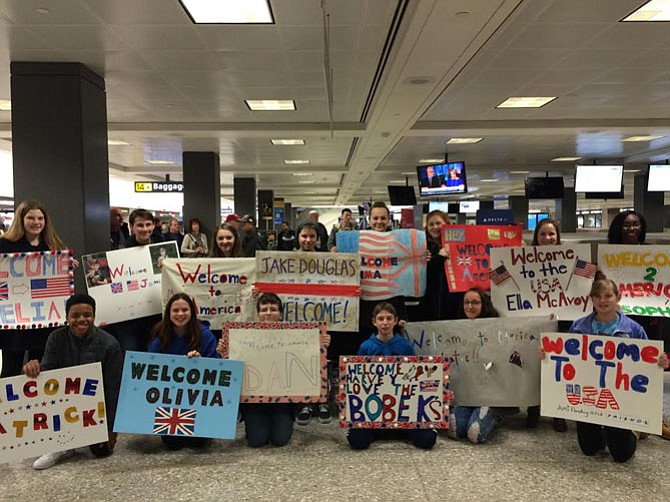 With Spring Break around the corner for Fairfax County Public Schools, 19 students from Centreville's Ormond Stone Middle School are gearing up for the trip of a lifetime: an eight-day adventure in the United Kingdom.
In 2003, under the leadership of then-Principal Ken Gaudreault, Stone Middle School established a partnership with The Warriner School in Oxfordshire, United Kingdom, for an exchange program that every other year sends groups of students and accompanying school faculty members in both directions across the Atlantic.
The exchange program with the Warriner School is completely funded by the students that participate.
"The first exchange took place in 2003, and with the length of the student application and preparation processes, we do it every other year," said Christine Sciabica, Stone Middle School vice principal. "That would mean we've done seven exchanges, with 150 students and their families that have participated since it all started. We usually take somewhere between 20 and 24 students, keeping it manageable so that we only need one bus for the touring and other activities abroad."
The upcoming March 18-26 trip to Oxfordshire will be the fourth one of these exchanges for Sciabica, who agrees that the opportunity for both students and faculty to immerse in another culture for a week or so has proven to be invaluable.
"Through the years, this program has been a great experience for students and staff, giving them an opportunity that normally they wouldn't have," she said. "While it's not extensive, being just a week in another country, it's a great exposure to another culture that, while not terribly different, it still is different. For example, British history is so much longer than America's. The education system is very different than ours, with uniforms and year-round school. It's a great experience for students and staff."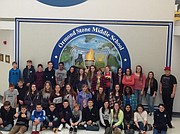 "We usually take somewhere between 20 and 24 students, keeping it manageable so that we only need one bus for the touring and other activities abroad."
— Christine Sciabica, Vice Principal, Stone Middle School
Jennifer Kudlacik, whose 7th grade son Dane will be going to Oxfordshire later this month, said the exchange program has already benefitted her son even more than she imagined it would.
"My mother and I were both born in London," Kudlacik said. "I brought the idea of the exchange program to Dane, because I thought it would be a great way for him to learn more about my side of the family, and our country. Also, my husband and I are well traveled, and we thought the exchange program was an exceptional opportunity to carry on this tradition. The program definitely has broadened Dane's perspective has given him an idea of how large and diverse our world really is. He was fascinated with the differences between himself and his exchange buddy, Alex. He's looking forward to his visit to England over Spring Break."
The program partners one Stone Middle School student to a Warriner School student, like Dane and Alex.
When the Warriner students travel to the Washington D.C.-metropolitan area, they stay with their American partner's family, who agree to expose the visiting English student to American culture and cuisine outside of school hours. The same is true for Wariner School families when they host their children's partners from Stone.
Similarly, faculty members stay with the host country's faculty members.
"We don't have parents go," Sciabica said. "It is always staff members, who will split their time between observing classes and teaching classes. During one visit, for example, one of the Warriner teachers taught physical education, so when he was here at Stone, so he did a co-lesson with one of our P.E. teachers."
For each part of the exchange, there are designated days for the visiting students to tour some defining landmarks and sites of their foreign destination.
During last month's Warriner visit, the English students and staff explored some hallmark Washingtonian spots, including Mount Vernon, the Washington D.C. monuments and the Newseum. They also experienced an unforeseen snow day for Fairfax County, limiting their days in the classroom but giving them a taste of life during winter for students in Northern Virginia suburbs.
Now, it's the Stone group's turn to fulfill their wanderlust. As the students are dreaming of Big Ben and Buckingham Palace, the teachers still have lessons to prepare before the group leaves for England on March 18.

"We have a science teacher going, so she is going to teach a science lesson," Sciabica said. "I will be teaching a lesson on American government, since that was what I taught before I became an administrator. One of my computer specialists is going, too, so she will be doing a computer lesson. This is a true student and faculty exchange."
The program has evolved since 2003, with most of the changes relating to how much the students are expected to connect and communicate with their international buddies before meeting face-to-face. This generation of students, for example, has free access to all kinds of technology and free applications that make long-distance bonding much easier, and without the cost it once involved.
"Communication has really changed because back when we started in 2003, there weren't the types of cell phones and social media that there is now," Sciabica said. "We used to rely on expensive video conferencing equipment that could be tens of thousands of dollars. That type of technology isn't really needed anymore. Now, we have a $100 wide-angle webcam that works in some ways better than the really expensive equipment we started out using. There is now constant communication between these kids before it's time for the Warriner group to come over. Where there used to be a lot of group planning and meetings for communicating with The Warriner School, now the expectation is on the students to spend their own time getting to know their partner. Today, kids have that ability to constantly communicate."
While pre-travel communication may have changed in the last 13 years, the popularity of the program has not. Every year, about 60 students apply for roughly 20 spots.
The selection process involves parental consent as well as willingness to properly host a visiting student, a list of the applying students' interests, an essay, teacher recommendations and interviews of the interested rising-seventh graders.
Since the application process starts so many months ahead of the actual exchanges, eligible seventh graders are still only in sixth grade when selection begins, Sciabica said. Selection for the 2016 exchange started last January.
It's not a cut-and-dry selection, because the faculties of both The Warriner School and Stone Middle School create partnerships based on similarities and compatibilities. Girls will only stay with girls, for example, and each partnership must consist of two students in the same grade.
"This year, we have seven seventh graders and 12 eight graders," Sciabica said. "That's just how it worked out. We have to match what they have on the UK side. There are a lot of factors in deciding who to pick for this kind of international travel."
This program fosters passion for international travel and learning, all while forging lifelong relationships.
"As much as we do, The Warriner School faculty understands the value of the experience too," Sciabica said. "We are able to keep it going knowing this program is such a good experience with these students. It really has created situations where students have gotten lifelong friendships and relationships as well as a desire to study abroad. It's made a world of difference to so many of the families."
Kudlacik agreed that the exchange program has turned out to be more than an international learning opportunity for her son.
"Dane and Alex got along really well, better than we could have hoped," she said. "They will definitely will remain long term friends and have already mentioned meeting up outside of the exchange program. We'd love Alex to come visit again during the summer. I was also surprised at how excited and engaged my entire family became in the exchange process. My younger son spent a lot of time with Alex and Dane and now wants to apply when he's old enough. And, an unexpected bonus was how much time we all spent together. It was a good family bonding experience. My entire family benefited from the exchange."