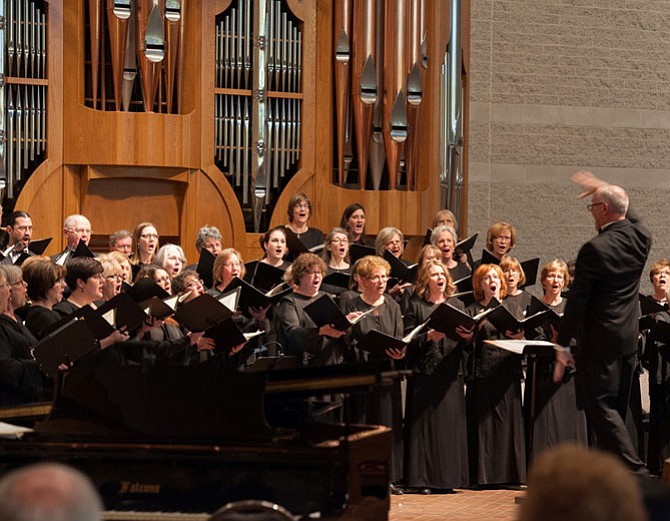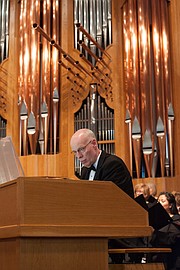 The Reston Chorale will present Choral Splendor II: Music of France, at 4 p.m. on Sunday, March 13, at Saint Luke Catholic Church (7001 Georgetown Pike, McLean). The concert, part of the Music in Mclean concert series, will open with Charles-Marie Widor's Messe, Op. 36, in its rarely heard original form: with mixed chorus, baritone choir — and two organs.

Just as Widor intended, the mass will be performed with musical forces at opposite ends of the church. From the front, guest artist Paul Skevington will play Saint Luke's majestic Steiner-Reck organ. With 61 sets of pipes — 3,169 in all — it is one of the largest and finest pipe organs in Northern Virginia. The Reston Chorale and Baritone Choir will sing from the rear, accompanied by keyboard artist Tordis Fahringer on a three-manual Rogers Infinity organ, provided for this performance by R.A. Daffer Church Organs, Inc, of Jessup, Md.

"The audience will literally be immersed in music, in the midst of a grand dialogue between the two organs and choral ensembles," said David Lang, artistic director of The Reston Chorale. "With the superb acoustics at Saint Luke Catholic Church, it promises to be an extraordinary experience – as was last season's Choral Splendor." In that highly acclaimed concert, the Chorale presented Louis Vierne's Messe Solennelle for mixed chorus and two organs.
Choral Splendor II will also feature performances by tenor soloist C.J. David, cellist Ethan Miller and the Chorale's chamber ensemble, Camerata, under the direction of Dr. Allan Laino.
In addition to Widor's Messe, Choral Splendor II will offer works by French composers Claude Debussy, Marcel Dupré, Gabriel Fauré, César Franck and Olivier Messiæn, as well as works based on French text by Jan Pieterszoon Sweelinck and Morten Lauridsen. The concert will close with David Willcocks' choral arrangement of Widor's magnificent "Toccata" from Organ Symphony No. 5.
Tickets to Choral Splendor II may be purchased online, in advance, at www.restonchorale.org, or at the door one hour before the performance at Saint Luke Catholic Church, 7001 Georgetown Pike, McLean. Online tickets are $20/Seniors (62+) and $25/Adults (18-61); ticket prices at the door will be $25/Seniors and $30/Adults. Youth 17 and under will be admitted for free when accompanied by an adult or senior ticket holder. Youth tickets are required.

For more information about this performance or The Reston Chorale, visit www.restonchorale.org or call 703-834-0079.