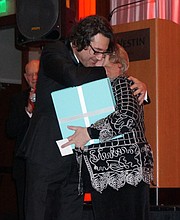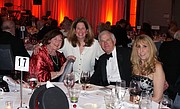 The Symphony League of Alexandria held its 29th annual Symphony Ball and Auction Feb. 27, celebrating Maestro Kim Allen Kluge's 28th and final year at the helm of the Alexandria Symphony Orchestra.
Held at the Carlyle Westin Hotel, more than 300 people turned out for the annual black-tie event that raises funds to support the ASO and its programs.
"What an incredible journey this has been for me," said Kluge, who will step down at the end of this season. "But while it is time for me to pursue different opportunities and challenges, don't be surprised if one day I end up as your neighbor. My wife Kathryn was born here and there is no question my heart is here in Alexandria."
Entertainment was provided by Bruthers Plus One with man-about-town Shawn McLaughlin acting as auctioneer for a live auction that included a trip to Tuscany, a blue sapphire necklace, a private tour and tasting reception for 12 at Port City Brewery and the ASO Wine Cellar.
SOLA president Phyllis Sintay made a presentation to Kluge, who was a young doctorate student at the University of Maryland when he took over as music director for what was then a fledgling amateur orchestra that performed in the old T.C. Williams High School auditorium. In only his second year, he professionalized the orchestra.
"There weren't a lot of people in the audience back then but we came together for the joy of performing," said Kluge when he was selected as a 2016 Living Legend of Alexandria. "It's very gratifying to look back and see what the ASO has accomplished and I hope I have made a lasting contribution to the city that I love so deeply. I truly have a sincere belief in the power of music to transform everyone's life."
For more information on the Alexandria Symphony Orchestra, visit www.alexsym.org.