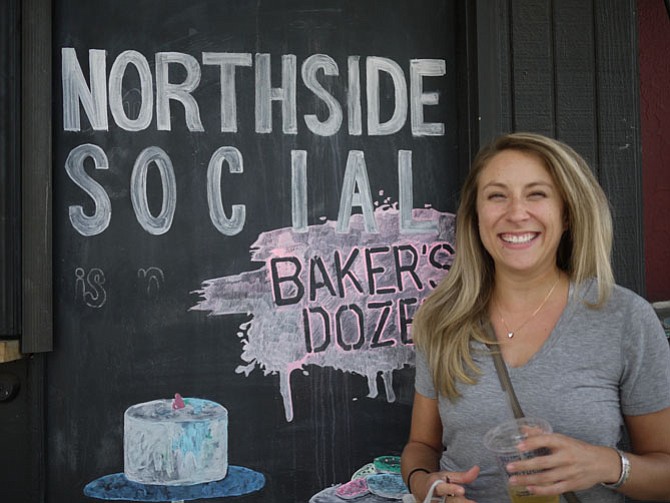 In a world with too many cares, having no car means one less headache. Katy Lang is an example of the trend among "under 30s" Arlington residents: they don't have a car. Lang became "carless" over five years ago. Lang is an organization development consultant for the American Chemical Society, downtown.
Lang has done the math on what she is saving by not having a car. A car cost her roughly $1,920 each year, which included insurance, registration, property tax, gas, parking, tolls, maintenance, and taking the Metro to work which was the only way she could get such a low insurance rate. But being car free was only $900 each year. Because her employer pays most of her commuting cost, her transit cost was zero. Her $900 paid for Amtrak tickets to visit family five times a year, zipcar membership, helping friends pay their gas bills, taking Uber or Lyft cabs. But the money is nothing, Lang said, compared to the improvement in quality of life.
Lang has lived in Arlington, off Lee HIghway, for seven years, and has been car free for five and a half. She chose Arlington because she wanted to be close to a metro station and commute to work without driving. Her office at the time was off Route 66 in Fairfax, but driving on 66 was a disaster. The time spent to get to work was time she would have preferred to read: now she can do that. She also learned to take Amtrak up to New Jersey to see her family: more time to read and relax rather than fight traffic jams on Route 95. With her Amtrak rewards program, it is cheaper to train than to drive.
Lang tells Arlingtonians who are thinking they couldn't go car-free that she was surprised it's so much easier than she thought it would be. At first, the thought of walking 12 minutes to the grocery store was daunting: now, it's something she looks forward to. She gets a sense of the streets from walking. She sees more. Life is slower. When people ask if she has seen the new restaurant in town, she can say "yes" because she walked by it and saw it, instead of driving by it and seeing nothing but the road.
In terms of health benefits, Lang says mental and physical health are both boosted by her car-free status. That 10 minutes of walking from the Metro to her apartment is a way to decompress, and by the same token, it helps keep her in physical shape.
"In an ideal world, I would never have a car again."
— Katy Lang, car-free Arlingtonian
Lang doesn't use a bike because the bike lanes to her place of work on 16th and M in D.C. are not developed enough. Although 85 percent of the way is bike lane, the 15 percent that is not is too unsafe to use. She feels safe on the Metro, in fact, safer than being in a car or walking in an area where car is still king: getting hit by a car is a real threat in the Washington, D.C. Metro area, because people don't always stop for pedestirans in crosswalks.
Lang is not the only one of her group to go without a car: of her five Arlington-based friends, one other is carless — but they all use Metro to go to work. She recommends two Apps for finding optimal bus routes. She uses the 3Y along Lee Highway to go into D.C. She uses a Zipcar occasionally: recently she took a zip to go to Bailey's Crossroads to buy craft supplies. She likes Lyft instead of Uber, and prefers Car2Go instead of Zipcar simply because you don't have to pay when you aren't in the car, and you can pick it up anywhere and drop it off anywhere.
As positive as she is about Arlington's transit system, Lang would like to see a better North to South Arlington connection. The walkability in between North and South is not that good, she says, and a better bus service to Shirlington and Crystal City would be good as both areas have so much more to offer than they used to. She would like to see more trees in Arlington, and more visual interest. She was well aware of the study that shows the changes in blood pressure people experience when they walk by an interesting wall, in contrast with walking by an empty lot or blank wall.
Lang praises Arlington for its transit options. She is a member of the Transit Advisory Committee, a group of Arlington residents who meet once a month to hear about transit in the area: they receive an update from Metro, talk about the bus system, Ballston redevelopment, and give their stamp of approval to county staff proposals.
"There is not a lot to complain about," she said.
She believes Arlington County does a good job of keeping its citizens informed about changes and asking for input; that said, she did not know about the Lee Highway Plan comment period and thought it would be good if the county used Twitter to announce public fora and comment periods. Like many of her generation, Lang depends on a web presence to stay informed. The civic association she would belong to has a dead web presence, and therefore, is not generating a lot of interest.
Lang also notes that one of the reasons she is car-free is because it is a global kindness to move away from the car-oriented society. She believes in "walking the walk" and participating in what makes Arlington great for transit: vibrant, walkable streets and accessibility without a car. She recommends for anyone interested in the idea: "Happy City" by Charles Montgomery. Where she goes next, and where she lives in the future, will be based on whether a car will be necessary. "In an ideal world," Lang said, "I would never have a car again."
Resources for Car-free People
www.zipcar.com
www.Car2Go.com
Metro App
For more information about tools to help car free people go to: http://www.carfreeatoz.com/planner and http://mobilitylab.org/tech/transit-tech-initiative/