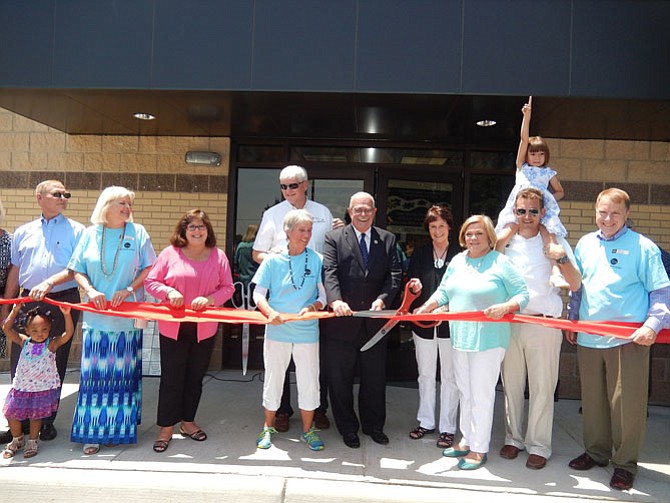 It took hard work, hope, planning, fundraising, faith and dedication; but at long last, the Lamb Center is in its new home. Although it actually began business there May 31, its official grand opening and open house was Sunday, June 26.
It included speeches, a prayer circle and a ribbon-cutting. And before the event ended, some 350 people came to check out the new facility and marvel at how far the Lamb Center has come since its humble and cramped beginnings.
"This is what the Lord planned and it's been a long time coming," said Lamb Center Executive Director John MacPherson. "We're grateful for God's blessings on this place and for the volunteers and all those who've given sacrificially to it."
For more than two decades, The Lamb Center in Fairfax has been a daytime, drop-in shelter offering hot meals, showers, laundry services, and recovery and employment counseling for the poor and homeless. The guests come from all walks of life. Many have mental illness, some are veterans and still others have simply fallen on hard times.
"We started in 1992 in a 1,100-square-foot pawn shop with little more than strong coffee and mighty prayers," said MacPherson. "By 2,000, we [rented] a 3,200-square-foot building at Fairfax Circle." Now, the organization is open six days a week, receives about 150 people/day and just moved into a two-story, nearly 10,000-square-foot building of its own at 3160 Campbell Drive.
AND LAST SUNDAY was a day to celebrate. Among the attendees were Lamb Center board members, staff, volunteers, guests and supporters, plus dignitaries including U.S. Rep. Gerry Connolly (D-11), Fairfax County Board of Supervisors Chairman Sharon Bulova, Sen. Chap Petersen (D-34), Fairfax City Council members David Meyer, Janice Miller, Jon Stehle and Ellie Schmidt, and Fairfax City Manager Bob Sisson.
"I served with Gerry when he was Board Chairman and the Board vowed to end homelessness within 10 years," said Bulova. "It was important to me to carry on that work, and we've made progress. We've reduced the homeless population in Fairfax County and Fairfax City by 42 percent."
"We need to help people who've lost their homes and jobs to get a roof over their heads and return to solid footing," she continued. "And the Lamb Center supports them with showers, food and medical care. This wouldn't have happened without the partnership between the faith community, county and City. And I thank Gerry for the work he's done and all of you for the great work you do."
Speaking next, Connolly said, "Oh, happy day. In the bitter cold and extreme heat, this'll be a lifesaver to people. And there, but for the grace of God, go I." He said people don't always make the right choices or things beyond their control adversely affect them. "And it's the measure of a community how people respond," said Connolly. "We should treat people with dignity, and this will give them a great place to be."
Miller said the City of Fairfax is "proud to partner with the Lamb Center in making today a reality. Homeless people here once lived in the woods; this building represents new chances for that population. I'm proud to be part of a City Council that's inclusive and gives chances to people, no matter who they are or their circumstances." She then thanked former Lamb Center Board of Directors Chairman Mary Petersen for her "fundraising prowess" and the volunteers for "the work they do here every day."
Ty Gautsch, project manager with Scott-Long Construction Co., the building's general contractor, said, "There's a lot of steel, pipes and copper wire here, and also intangibles, including the spirit of Christ." He then presented the center with a large, wooden piece of art containing replicas of some of the messages people wrote to the Lamb Center during a beam signing in February. The artwork, itself, contains the words, "Everyone's thoughts and prayers are written behind these walls."
Petersen's son Chap then thanked his parents for all their efforts that led to the new building. And, he added, "For everyone who's contributed to this place in any way, God will bless you."
LAMB CENTER Assistant Director Patti Brown read a message from the center's founder, Martyn Minns. "It's hard to believe how much has been accomplished by this remarkable, yet simple, ministry," he wrote. "The poor have great gifts to give – their faith, trust and friendship have no price tag."
Next, calling the center's Operations Director Dave Larrabee "the lifeblood of this place," MacPherson asked Larrabee to say a prayer as everyone there held hands in a circle. He prayed, "Thank you, Lord, for finding us this beautiful, new home and for your faithfulness and belief in us."
Walking inside the facility for tours and a reception, Lamb Center Building Committee member Allen Griffith said the center carries out the Biblical message of Isaiah 58: "Share your housing, food and clothes; and if you do, God will hear your prayers and heal you."