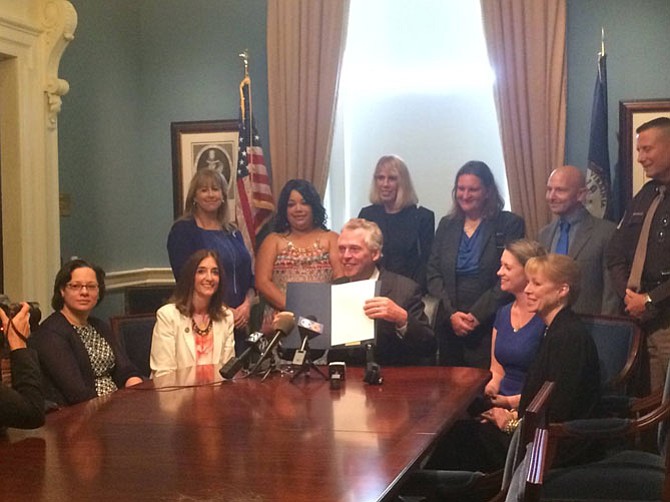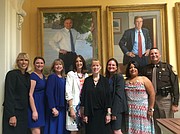 On Monday, June 13, Governor Terry McAuliffe signed Delegate Eileen Filler-Corn's (D-41) bill, HB 659 in the State Capitol in Richmond. HB 659 will require high-school family-life curricula to include awareness, understanding and prevention of dating violence, domestic abuse, sexual harassment and sexual violence.
"This bill focuses on prevention," says Filler-Corn. "We need to educate our youth at a younger age. Silence is not an option. We cannot expect them to wait to learn about dating violence, domestic abuse, sexual harassment and sexual violence in college. We need to teach them earlier."
Filler-Corn was flanked by leading voices in the fight against campus and domestic sexual assault including: Gil Harrington, co-founder of Help Save the Next Girl and mother of Morgan Harrington, who was tragically murdered in 2009; Trina Murphy, aunt of Alexis Murphy, who disappeared in 2013 in Nelson County and whose body was never found; and Annie Clark, executive director and co-founder of End Rape on Campus, an organization seeking to end campus sexual violence through direct support for survivors; prevention through education; and meaningful policy reform. "This bill will save more lives," said Harrington, immediately following the bill signing.
Delegate Filler-Corn's bill, HB 659, had both Democratic and Republican co-patrons and passed unanimously out of the House of Delegates and near unanimously out of the Senate during the 2016 General Assembly Session. It will take effect on July 1, 2016.